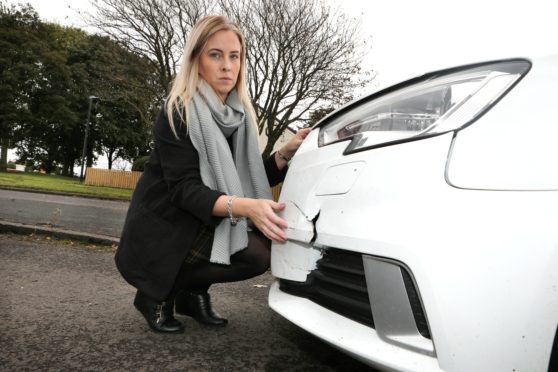 A Dundee woman has appealed to a hit-and-run driver who wrecked her car while she slept to own up after she was left more than £1,000 out of pocket.
Debbie Martin, 34, parked her Audi A3 near her home on Broughty Ferry Court on Thursday night and the next morning discovered the front had been badly dented.
She said it appeared the damage had been caused by an impact, most likely when someone was attempting a manoeuvre in the narrow cul-de-sac.
The incident has been reported to police, who are investigating.
Debbie, a digital marketing executive, said he was still holding out a slim hope that the culprit's conscience would persuade them to own up.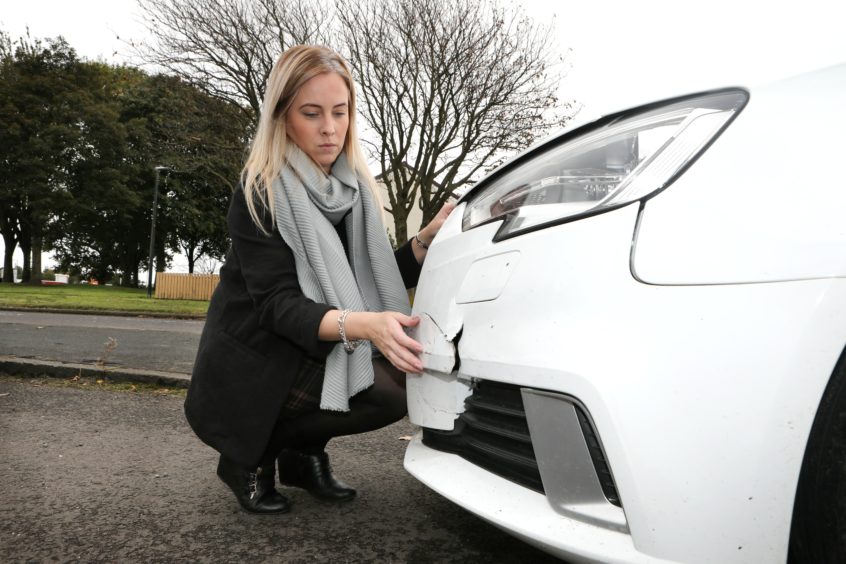 Her car was fine when she parked it at around 6.30pm on Broughty Ferry Court, opposite the Sainsbury's on Baldovie Road.
It was only at 8.30am on Friday, as she was getting ready to go to work that she noticed it had been hit.
"The damage was mainly on the front passenger side," she said.
"It seems someone has come into the cul-de-sac, done some sort of manoeuvre, hit the car and then driven away. I didn't hear anything during the night, but the driver would have heard the impact due to the amount of damage.
"I know people don't want to admit these things but I'm disappointed the person couldn't just be honest and at least leave their details on the car. I'd really like them to come forward, although I know it's unlikely."
Debbie has taken the car to a garage to be repaired and was told the whole bumper would need replacing, which would set her back between £700 and £800.
There is also a dent on the wheel arch for which she has not yet received a quote.
"The mechanic said there might be more internal damage that isn't visible, due to the impact," she said.
"It will take around two weeks for it all to be examined and fixed, so I'm also without a car and I work on the other side of town.
"I've also had to pay my insurance premium, which was £370.
"I'm disappointed that somebody has caused this amount of damage and not just been honest. I've only had the car for 18 months."