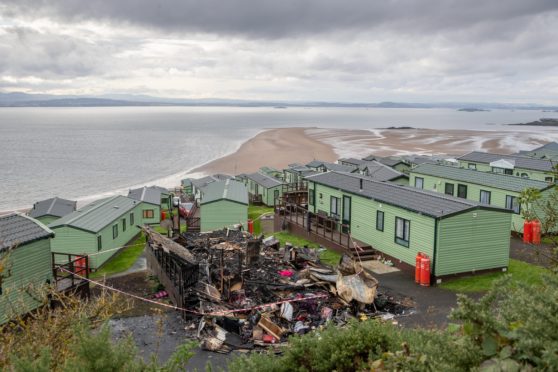 A Fife couple have had a lucky escape after fire ripped through their holiday caravan destroying the property.
Around 20 fire fighters from four appliances fought to bring the blaze under control at Pettycur Bay Holiday Park near Kinghorn, after fears it my spread to adjacent properties.
An investigation has been launched to determine the cause of the fire, after fire crews were scrambled following the alarm raised by a member of the public at 8.49pm on Wednesday night.
A resident who witnessed the incident said he was shocked by how quickly the blaze ripped through the caravan.
He said: "The first I knew of it was when saw the blue lights and heard the sirens.
"I stepped out of my caravan and it was already well alight.
"In just 20 minutes there was nothing left, it was an inferno.
"There was a fear that the fire would spread to adjacent caravans but thankfully that was averted."
Tommy Wallace, one of the site's owners was one of the first on the scene.
He said: "One of our site wardens had raised the alarm and our first priority is always to ensure no one is still inside the caravan
"Once that had been established my main focus was to cut off the gas supply which proved quite difficult considering the fire had taken hold of the entire caravan by then.
"From there we just offered whatever assistance we could to the emergency services.
"Because the firefighters were struggling to get access to the building, we used our tractor to help lift the roof off the caravan in order to help them get at the main body of the fire."
Mr Wallis, whose family have owned the popular holiday park since 1984, said the site had an excellent safety record.
"We have the necessary emergency procedures which we carry out in any such situation and all caravans are fitted with the required safety alarms and smoke detectors
"We took the owners away to be cared following the initial shock of the invents and they then went away to stay with family nearby.
"The damage will be covered by the insurance, we are just thankful that nobody has been injured or killed in the incident."
A spokesman for Scottish Fire & Resuce said: "Four crews from the surrounding area were called to the scene and arrived to find the caravan well alight, although thankfully its occupants had got out before the flames spread.
"Twenty firefighters tackled the blaze and brought it under control before leaving the park at 11.22pm."
"Two fire engines from Kirkcaldy, one from Methil and one from Burntisland had been in attendance."