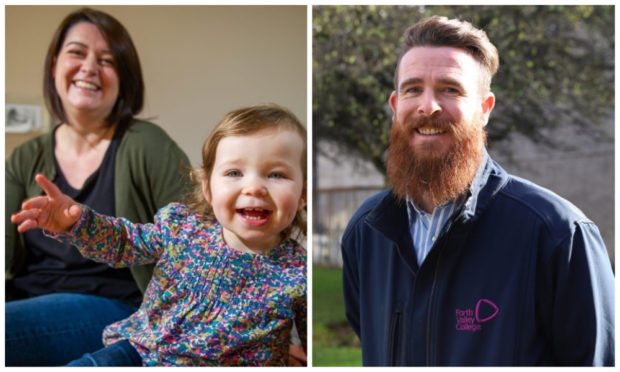 A mystery lifesaver who stopped a toddler from choking has come forward after a desperate bid to find him.
Paul McHardy managed to dislodge a strawberry from little Freya Fernie's throat during a family day out at Cairnie Fruit Farm in Fife.
He then calmly walked away without giving his name, prompting an appeal from Freya's grateful mum Jody King, who wanted to thank him properly for his brave actions.
Paul, 40, has now got in touch after reading about the search in The Courier.
However, the Kinross man, who previously saved his own daughter during a similar drama, insisted: "I'm no hero."
Freya, from Cardenden, was struggling to breathe and had begun turning blue when Paul stepped in to help.
The college lecturer took over from Jody and her mother Ann Rollo, who had both frantically tried to remove the fruit from the 21-month-old's throat by hitting her on the back.
Paul, who had been at the farm near Cupar with his own family, turned Freya upside-down and administered a few harder whacks before the strawberry flew out.
He said he had been surprised to read The Courier's article a few days later but realised immediately that he was the "knight in shining armour" referred to.
"Jody and her mum both thanked me at the time but obviously they were upset and were looking after Freya," he said.
"When I saw the child was all right I thought the best place for her was with her family so I left them to it."
Paul, who works at Forth Valley College in Falkirk, performed the Heimlich manoeuvre on his daughter Sofia some years ago when she choked on a pea pod just months after he had attended a first aid course.
"She was two or three at the time and it was exactly the same thing," he said.
"With Freya I was a lot calmer because I'd done it before and I know it takes a good few whacks on the back before anything comes out.
"When I think back, I was a bit calm. I'm a bit surprised myself."
Jody has already phoned Paul to thank him properly for his actions.
"She said that normally you'd thank someone with a bottle but I told her that wasn't necessary," he said.
"I'm not a hero. I'm just glad I could help."
Jody, 32, said she was delighted to have tracked Paul down.
"He's a lovely man on top of being a hero," she said.
"It was nice to give him a proper thank you and I've got myself booked onto a child first aid course."