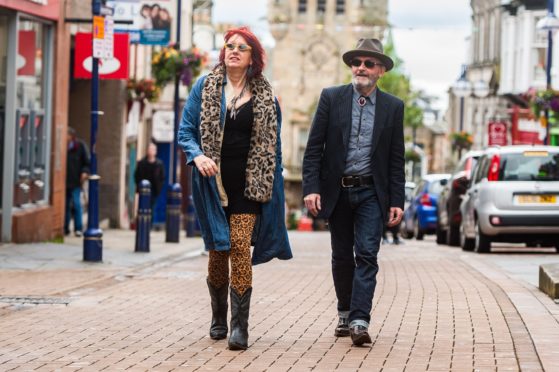 Dunfermline's Outwith Festival was a boon for the economy this year, attracting more than 9,000 attendees and an overall spend double that of the previous year.
The key findings of a study examining the economic impact of the six-day arts extravaganza have been released showing its third year was its strongest yet.
The report found the event, which this year had headliners including Tim Burgess, Idlewild, Honeyblood and New York-based William McCarthy, is attracting visitors from the rest of Scotland, the UK and overseas, with more than one in five festival-goers travelling from outside Fife.
Audiences in 2019 increased by 26% on 2018's figure of 7,100 and the level of spending and length of stay have also risen.
The net economic impact has more than doubled to £334,000, compared with 2018's £155,000, while the proportion of people staying one night or more rose from 11% in 2018 to 15% in 2019.
The report isl be music to the ears of festival organisers amid ongoing uncertainty about future events following the recent collapse of Dunfermline Delivers, the town's Business Improvement District.
After it lost its renewal vote earlier this year, a new organisation, Delivering Dunfermline, was formed with Fife Council's help to ensure the 2019 event would go ahead and the outcome of the new study has buoyed the hopes of all those associated with it.
Chris Foote, from Delivering Dunfermline, said: "The economic impact findings are even better than we expected for a festival that only started three years ago; the festival has brought in over three times what it cost.
"And while our costs are offset by support from our funders and by ticket income, they're already much lower, thanks to the time and skills that the festival partners and volunteers continue to donate all year round."
Delivering Dunfermline, which organised the festival in conjunction with Avocado Sweet, Fire Station Creative and Write Rammy, commissioned the economic research consultancy 4-Consulting to measure the impact of the festival in both 2018 and 2019.
The research in 2019 is based on 2,355 advance ticket sales through ONFife's box office and more than 250 online and face-to-face surveys.
Nearly 80% of festival goers said the September arts festival was the main reason for their visit to Dunfermline, a rise from 72% last year.
Feedback on the festival experience was also very strong, with 96% rating Outwith very good or good and nine of out of 10 people saying they would return to the festival.
Michelle McWilliams, of Avocado Sweet, said: "Apart from the money coming into the local economy, the less quantifiable benefits are considerable.
"As a result of the media coverage generated by this event Dunfermline's national profile is rising.
"The festival also provides a platform for local artists, performers and community groups – many of whom had a greater impact by working together."