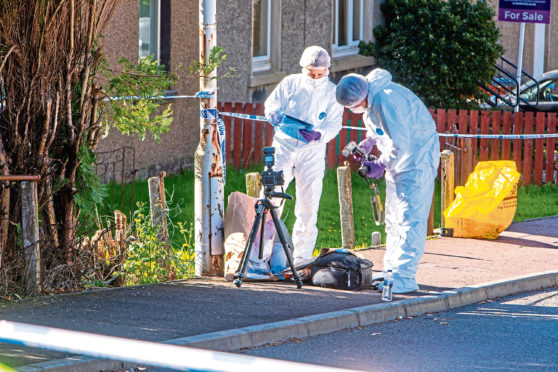 A murder suspect said there was "blood everywhere" after he repeatedly bludgeoned a young mum on the head with a claw hammer, a jury heard yesterday.
Aaron Donald, 28, admitted he was responsible for killing Claire Turnbull and leaving her lying in a pool of blood.
He told a jury at the High Court in Livingston: "I've got that image in my mind, and that'll be it there for the rest of my life."
Donald and his partner Laura McMurdo, 30, deny murdering Claire at their flat in Blairhall, Fife, on October 5 last year and trying to defeat the ends of justice by hiding the murder weapon and lying to police.
Donald has lodged two special defences claiming he was suffering from a mental disorder and diminished responsibility at the time.
Jurors yesterday saw a video of detectives interviewing him the day after 36-year-old Claire's body was found lying in a pool of blood and brain matter at the home of both the accused in Rintoul Avenue, Blairhall.
Donald claimed he'd "lost it" after the dead woman made sexual approaches to him and his girlfriend following the all-day drinking session.
He told officers his medication had not been working but admitted drinking a huge amount of Jack Daniels, liqueur shots, alcopops and cider.
He said: "I've obviously went too far, but I didn't meant to kill her… I should have kindly asked her to leave. The way it happened and the build-up to it, it happened and I'm sorry.
"I've been to psychiatrists and doctors and everything about the way I've been feeling. I've been talking to God ultimately saying 'if you're there and you're listening please help me.' That's how desperate I am."
Police detained both accused at a bus stop round the corner from their flat with a bag full of their clothing and belongings – along with a supermarket "bag for life" containing the bloodstained hammer.
Donald admitted he had taken photographs of Claire's dead body on McMurdo's mobile phone but claimed there had been no malice in doing so.
He said: "I didn't take them to look at for any other reason than to show my father proof of what I had done and then he could really help me hand myself in basically. I was going to hand myself in."
Asked what injuries he had inflicted on Claire, he pointed to the crown of his head and said: "It wasn't her face or that. It was her head but she had long hair and I couldn't see exactly the damage that was being done.
"(There was) a lot, lot of blood after it. There would have been blood everywhere."
He said he knew that she was dead but claimed he had not meant to kill her.
The trial, before judge Lady Scott, continues.