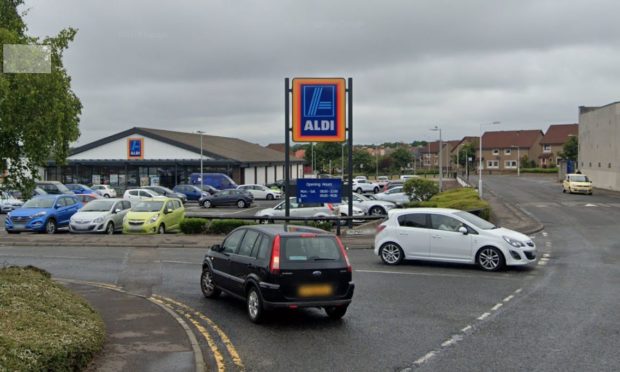 A man was struck repeatedly with a broken bottle in a vicious broad daylight attack near a Kirkcaldy supermarket.
David Taylor was left bloodied and scarred by Kevin Hook near Aldi, in an assault  witnessed by several people in the busy street.
He staggered across the road into the supermarket service yard and passersby alerted police, who found him lying on the ground, bleeding heavily.
Hook, 48, was jailed for 40 months for what was described by a sheriff as "grotesque" violence.
At Kirkcaldy Sheriff Court he admitted assaulting Mr Taylor to his severe injury, permanent disfigurement and to the danger of his life in McKenzie Street on August 1.
A fight broke out when Hook, a prisoner in Perth, accused Mr Taylor of stealing his wife's bank card.
All three are drug and alcohol abusers and Mr Taylor had been watching their belongings opposite the Aldi car park while the couple went to get money to pay him for valium tablets.
Hook struck Mr Taylor on the head with an empty bottle of Chardonnay wine Dawn Hook had been drinking and struck him again in the face, neck and chest with the broken glass, then kicked him when he fell to the ground.
Mr Taylor, who was taken to nearby Victoria Hospital, suffered a number of lacerations and fractures, including a 6cm cut on his scalp and a fractured cheek bone and eye socket.
Police found blood-smeared Hook, with his wife, in nearby East March Street clutching a clump of grass to his bleeding hand. He was also taken to hospital.
Sheriff Jamie Gilchrist QC told Hook: "This was a horrific assault involving a grotesque amount of violence."
Solicitor David Bell said that although the assault with a broken bottle could have endangered Mr Taylor's life it did not actually cause life-threatening injuries.
He said Hook had not gone out looking for trouble but was angered that his wife's bank card was missing from a bag.
He said: "This was undoubtedly a nasty incident. It was a gross overreaction to whatever the behaviour of Mr Taylor was."
---

---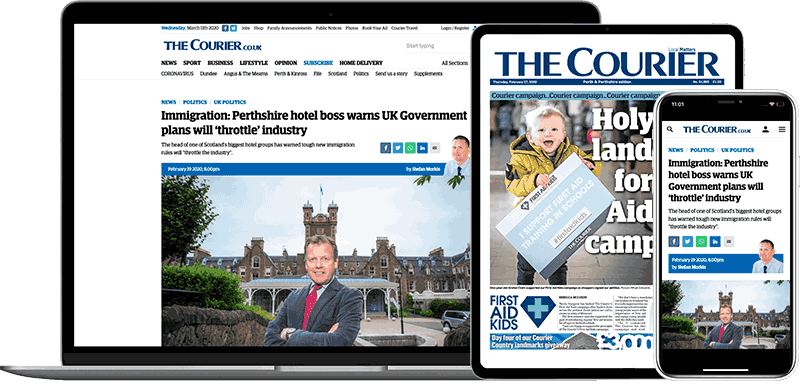 Help support quality local journalism … become a digital subscriber to The Courier
For as little as £5.99 a month you can access all of our content, including Premium articles.
Subscribe