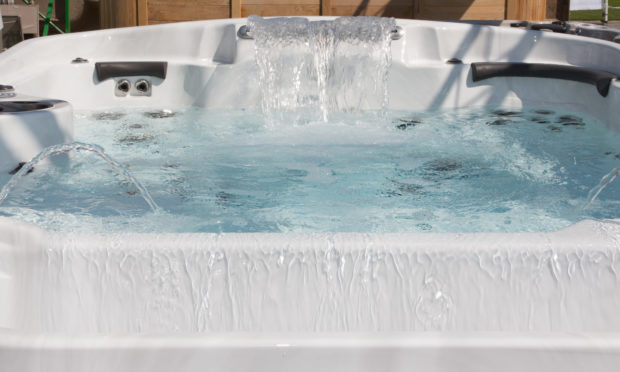 A hot tub repair man turned up to a female customer's front door with his private parts sticking out of his trousers.
Ivan Kotkov remained in the exposed state as he carried out work at her house.
Kotkov then went to the home of another woman where he again walked around the house while exposed.
Bulgarian national Kotkov, who has lived in the UK for more than two years, has now been placed on the sex offenders register.
He had been employed by a Welsh firm and travelled to Fife to carry out repairs to hot tubs at homes in Dunfermline and Cowdenbeath on the same day.
Kotkov, 42, of Marine Parade, Barmouth, was found guilty after a trial at Dunfermline Sheriff Court.
One of the women took a photograph of him in the state of undress and it was shown in court.
On August 28 at a house in Dunfermline, Kotkov intentionally exposed his genitals in a sexual manner through his open trouser zip.
He committed the same offence at a house in Cowdenbeath, on the same day.
The women, aged in their 50s and 30s, described him as "hanging out" and "popping out" of his trousers as he walked about their homes.
Both were very distressed by their ordeals, with one saying she felt "traumatised" afterwards.
Kotkov claimed he was not wearing underwear, the zip on his work trousers was broken but he had not realised this when he turned up at the first house.
He said it was only when he went to use the toilet he noticed the zip was broken and he had then tried to fix it with a pair of pliers.
Kotkov accused the witnesses of lying about what they could see.
The second woman said Kotkov went to use her toilet and when he emerged, he was exposed.
The woman took a photograph as evidence and she said it appeared he was wearing underwear.
The women were both alone in their homes and did not confront Kotkov at the time.
The second woman contacted the company when Kotkov left.
The firm then phoned the first customer to ask if there had been any problems there.
The company contacted Kotkov telling him to return to Wales and he met with his bosses the next day wearing trousers with a broken zip.
Sheriff Alastair Brown said the evidence of the women was that while he was working on hot tubs the accused had his private parts protruding through his trousers.
"It was for an extended period in both cases. The obvious inference would be it was for sexual gratification.
"I find his position incomprehensible. It makes no sense for a man who is aware of this problem to have done nothing about it."
He rejected Kotkov's evidence "in its entirety on matters of importance" and found him guilty of both charges.
The sheriff called for reports and Kotkov will be sentenced on December 4.
---

---