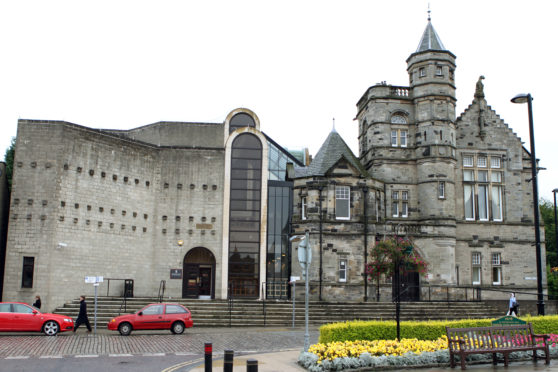 A lorry driver accused of holding a wet wipe in a toddler's mouth as she "struggled to breathe" told a jury yesterday that "nothing untoward" had taken place with the clean-up tissue.
Sharaz Hayat, who is accused of endangering the life of the 21-month-old child with the baby wipe by restricting her breathing, said he was simply trying to clean something out of her mouth.
The 30-year-old, who thought he had drunk a bottle of wine and four beers on the day of the incident, said that, possibly through drink, he had dropped the child from a height of about two feet, on to the carpet, while getting her ready to put her pyjamas on.
He said she had begun crying, and wet herself, and he then noticed what looked like play slime, or a bogey, in her mouth.
He said he put a baby wipe on his finger, rather than put a dirty finger in her mouth, and was trying to remove it when his then-partner, Nicole Scott, walked in.
Kirkcaldy Sheriff Court heard earlier that Miss Scott, 29, had told police she found Hayat "on his knees holding the wipe in her mouth" and the child was struggling to breathe.
But Hayat told defence advocate Iain Smith: "Nicole came upstairs not knowing the context behind it and started shouting. The wet wipe was round my fingers and my fingers were in her mouth."
Mr Smith asked: "Were you holding the wipe in her mouth and preventing it from being removed? Were you restricting her breathing in any way? Was she struggling in any way?"
To each question, Hayat answered, "No."
He also denied placing his hand, or the child's hand, over her mouth "at any stage".
Mr Smith asked: "Did you assault her in any way?"
Hayat replied: "Absolutely not."
Prosecutor Ronnie Hay, in cross-examination, challenged Hayat's account.
He said: "Do you know what the word contrived means? It couldn't be more contrived. It's absolutely ridiculous, is it not?"
Hayat replied: "No, I'd wholeheartedly disagree with that."
He said there was "nothing untoward" in any way with the incident.
Referring to that, and to another allegation that Hayat had "choked" Miss Scott, Mr Hay said: "You lost your temper with Nicole and you lost your cool with the child, did you not?"
Hayat replied: "No, everyone who knows me knows I don't have a temper."
Hayat, of Leith, Edinburgh, denies assaulting the child to the danger of her life and assaulting Miss Scott to her injury. The incidents are said to have happened on November 4 last year.
The court heard earlier that Miss Scott, a part-time mental health support worker who had been dating Hayat for eight or nine months, had told police that following the baby wipe incident, Hayat had said he wanted to hurt someone. The trial continues.