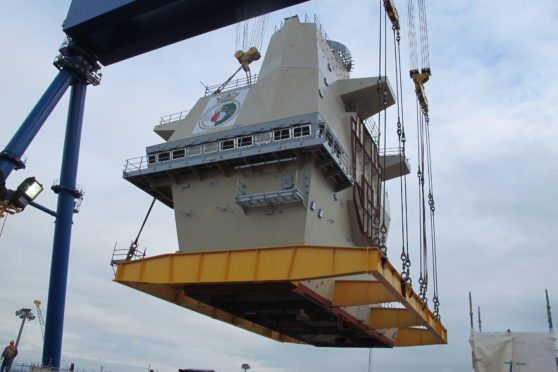 Hopes have been raised hundreds of jobs could be created in Fife after the Ministry of Defence (MoD) suspended its £1 billion international tender for three new Royal Navy support ships.
The UK Government has previously been accused of betraying Scottish shipbuilders after the contract to build at least two 40,000-tonne Fleet Solid Support ships went to international bidders, with Spanish firm Navantia rumoured to be in pole position to secure the work.
However, the MoD has confirmed it has halted the tendering process, amid suggestions the major naval contract may be reserved for UK shipyards.
Sources say Rosyth would then be in line for a significant share of the 10,000-plus jobs which, according to unions, would be created or secured if the Team UK consortium – consisting of Babcock International, BAE Systems, Cammell Laird and Rolls-Royce – is chosen to deliver the project.
Mike Clancy, general secretary of the Prospect union, said the suspension of the £1bn tender is a great opportunity for the UK Government to back British shipbuilding.
"In theory, the UK has a National Shipbuilding Strategy, but you wouldn't know it from the absolute chaos we have seen in vital naval procurement in recent years.
"The Type 31e contract was a shambles and had to be paused for a rethink, and now the Fleet Support Ships are suffering the same fate.
"Perhaps it is no surprise given we might be about to get our fourth defence secretary in a little over six months.
"The only silver lining is that this pause will allow the government to reconsider the decision to send this work overseas at a time when our fantastic UK shipyards need support from government.
"Workers in our shipyards now need a cast iron guarantee from all parties that these ships will be built here."
Figures from the GMB union estimate keeping the work on UK soil could create or secure 6,700 jobs, including 1,800 shipyard jobs, and support a further 4,700 in the supply chain.
With the contract to build two giant aircraft carriers at Rosyth, the HMS Queen Elizabeth and HMS Prince of Wales,  almost complete, workers at the Fife dockyard face an anxious wait to see if further work will be secured.
The new ships are required by the Royal Fleet Auxiliary (RFA) to supply the two new aircraft carriers and accompanying ships with food, ammunition and other supplies.
Ross Murdoch, GMB national officer, said: "Our yards cannot compete against the unfair subsidies awarded by other nations, while our competitors would not dream of letting the UK bid for their contracts.
"The government must now back skilled UK workers and our steel industry by keeping the Fleet Solid Support contract in the UK and reserving future awards for our own yards."
A spokeswoman for Babcock directed enquiries to the MoD, which said: "It is clear that the current approach will not deliver the requirement.
"We are now considering the most appropriate way forward for the procurement project."