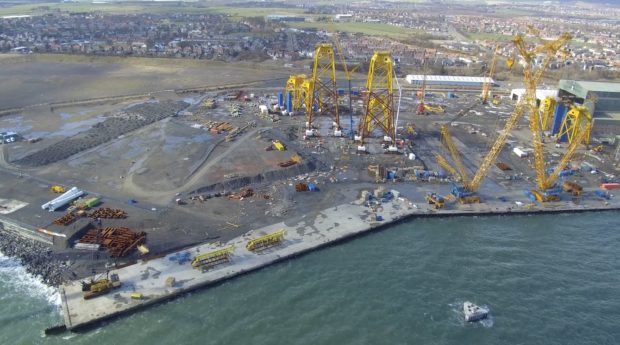 Fife is on the cusp of becoming a world leader of a green energy revolution, The Courier understands.
The Fife Energy Park in Methil has emerged as the frontrunner to host the world's first 100% hydrogen gas network in a move which could lead to a significant future jobs boost and inward investment.
Scotia Gas Networks (SGN), is behind the H100 project and is assessing the suitability of three sites in Scotland, with Levenmouth thought to be the frontrunner.
Aberdeen and Machrinhanish in Argyll are others being considered, with one to be selected as the most suitable location for the construction of a demonstration network that could power upwards of 300 homes.
While planning processes are said to be under way at more than one location, sources say the award of a £500,000 grant to the company for a separate hydrogen initiative at the Fife site has pushed the kingdom into pole position to benefit from the £2.8 million Ofgem-funded H100 project.
The formal submission of a screening opinion request to Fife Council for a proposed hydrogen production and storage facility, which will look more closely at the potential environmental impact, has been seen as a clear sign Fife is the preferred option.
The speculation comes after SGN, along with its partners Arup, Kiwa Gastec and the Offshore Renewable Energy (ORE) Catapult, was told it has been successful in its bid as part of the Department of Business, Energy and Industrial Strategy's Hydrogen Supply Competition to deliver phase one of 'Project Methilltoune' – a feasibility study that will focus on the potential to supply hydrogen from offshore wind.
The project aims to demonstrate how renewable energy produced by offshore wind can generate a secure and reliable supply of green hydrogen to heat homes.
Angus McIntosh, director of Energy Futures at SGN, said: "Along with our partners, we're delighted to be awarded this funding to progress our study into the supply of green hydrogen.
"Hydrogen offers a credible and exciting opportunity to deliver the UK's net zero targets by 2050.
"The UK has all the ingredients to lead the way, from natural resources to engineering excellence and the quantity and quality of research being undertaken reflects this opportunity.
"We must continue this great work, demonstrate it and deliver the framework for change."
Hydrogen has been identified as an alternative to fossil fuels. When burned, it produces only water and heat, not carbon dioxide, offering a means to deliver net zero emissions.
The H100 project is also being taken forward to conduct research into the characteristics of hydrogen to provide a full understanding of the impact of its distribution, in relative terms, to natural gas.
One of the three shortlisted sites will then be chosen to host what the company says will be the "reliable and safe" operation of a demonstration network, which will encompass the whole hydrogen supply chain including transportation, storage, distribution and utilisation.
A spokesperson for SGN maintained no decision has been taken, adding: "All three sites have features that are representative of the wider gas distribution system and all provide locations that are UK scalable."
The Courier understands, however, the site in Aberdeen will be almost certainly discounted in the coming weeks and a decision is anticipated early in the new year.
How the network will work
The introduction of hydrogen into the gas network is a potential solution to reduce carbon emissions and could form an important part of the UK's low carbon future.
This is because when hydrogen is converted to heat it releases no carbon dioxide.
Hydrogen is a highly reactive substance and therefore, without the appropriate storage and handling methods in place, it can present an elevated fire and explosion risk.
The Health and Safety Executive (HSE) say hydrogen has an extremely low density as a gas at atmospheric pressure and therefore would disperse quickly in open atmospheres.
This presents a risk in enclosed atmospheres as hydrogen would tend to spread quickly into the head of an enclosed space.
However, according to papers submitted with the planning application, a range of prevention, protection and mitigation measures would be implemented to reduce the safety risks.
Hydrogen would be produced using an electrolyser system, which produces hydrogen and oxygen from electricity and water, with the neighbouring wind turbines providing the primary electricity supply to the proposed development.
Based on the current project design, six storage tanks would be required to supply hydrogen to 300 homes and other ancillary buildings would be on site.
The project would generate 300 tonnes of hydrogen per year with an onsite storage capacity of up to five tonnes, and suggestions are that construction of the demonstration network could begin as early as mid-2022.
Connection to that network would be on a voluntary, opt-in basis.