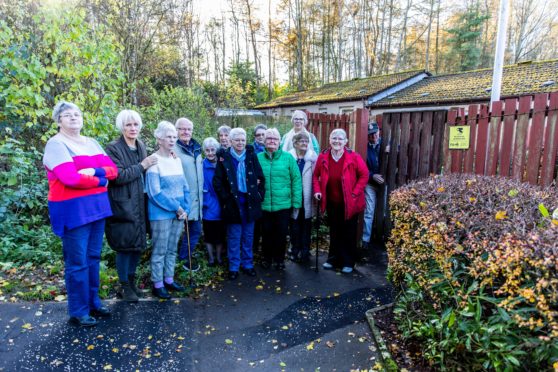 The elderly residents of a sheltered housing complex in Glenrothes say access to a new pedestrian crossing nearby has made them feel unsafe in their own homes.
Pensioners, some in their 90s, claim the new crossing on the A92, just yards from their single storey bungalows, will turn the cul-de-sac at Blairadam Court into a public thoroughfare, shattering the tranquillity of their once quiet neighbourhood.
The pedestrian crossing was installed six weeks ago, following a four-year campaign by the family of nine-year-old Logan Carrie, who was killed whilst crossing the busy A92 trunk road in February 2015.
Transport Scotland installed the new crossing following the then Transport Minister, Humza Yousaf's visit to the crash site.
News that a gate, on a path leading to the crossing, which has been in place for several years, may now also be removed following calls from local cyclists, has further dismayed elderly residents.
"The removal of the gate will expose this sheltered and quiet elderly residence and turn it into a public cut through 24 hours a day, seven days a week, and that is just unacceptable," said Don Imrie, chairman of Glenrothes Sheltered Housing Residents Association.
"This gate has a very important function and should not be removed as it has successfully prevented a repeat of the tragic accident which took the life of a nine-year-old little boy.
"Cyclists using the crossing will see that there is a path to the left more than suitable.
"This leads cyclists round behind the houses in Blairadam Court and safely up to the main road without being a safety threat for elderly residents who have a hard enough time as it is.
"It's not fair to ask elderly residents to have to cope with cyclists on the footpath right outside their doors."
Fellow Blairadam Court resident Ellen Huggen, who has lived there for the past eight years said: "The last thing we want to feel is unsafe in our own homes but that is what opening up this pathway will do.
"There is a lot of concern about it among people who live here."
Maureen Campbell, another who lives in the sheltered housing complex, added: "It feels like there are so many outside people making decisions on our behalf."
As access to the crossing falls under the responsibility of Fife Council, the residents have now called for an urgent meeting with officers and a rethink to plans to remove the restricted access gate.
Responding to the concerns, service manager Martin Kingham said: "We're making arrangements to meet with Blairadam Court residents, so we can hear their concerns and reach a satisfactory solution."