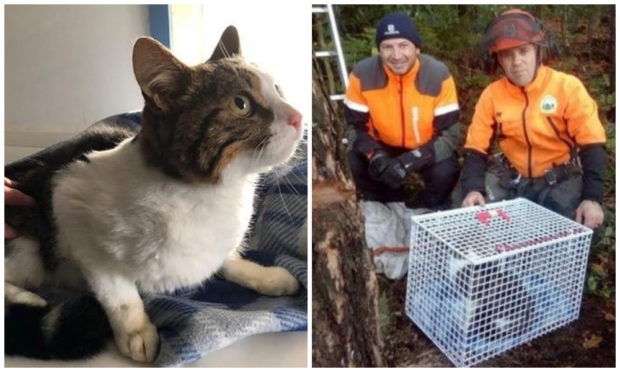 A cat was dramatically rescued after being stranded up a tree in Fife for four days in freezing temperatures.
A dog walker first raised the alarm on Saturday after the cat was seen stuck more than 70-feet up in a tree in the Townhill area of Dunfermline.
Initial attempts by fire crews and officers from the SSPCA failed to bring the cat back down as fears grew it would succumb to the sub-zero overnight temperatures.
It was finally rescued after four perilous days and nights perched on a branch after a huge operation involving tree surgeons Graham McManus and Gordon Drury and a local roofing contractor managed to coax the one-year-old male cat to safety.
On Monday, fire crews had tried to force the cat down using hoses but only succeeded in driving it further up the tree.
With a roofer only managing to reach as high as 50 feet with ladders, the rescue was finally completed after tree surgeons scaled the trunk using specialist climbing equipment before coaxing the cat into a bag which was then lowered to the ground using ropes.
"It's the first time I've had to deal with such a rescue in over 40 years of looking after cats," said Rhona Gordon, from Fife Cat Shelter, who put out the plea for help.
"It's a miracle the cat survived really as it has been so cold, especially at night when the temperature was down to -2c.
"We are just so grateful everybody that answered the call and got involved in the rescue, they are the heroes in all of this.
"It was a real community effort and very brave of those who scaled the tree to such heights to get the cat down."
When back on solid ground the cat, which has since been named Shapes after the tree surgery company that helped rescue it, was rushed to vets for health checks.
"It's remarkable how well the cat was after the no food for four days and is now doing well recovering at our cattery in Gairneybridge, " said Rhona.
"Sadly the cat was not microchipped so we don't know who its owners are.
"However, we understand that if no one comes forward to claim Shapes the tree surgeon said that he will take him and give him a good home so a lovely end to a drama."