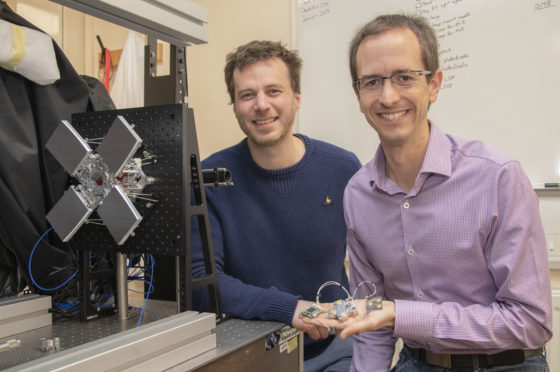 A toaster-sized satellite that can capture detailed images of the Earth has been created with the help of former St Andrews boffins.
Precision technology for the "HighRes" satellite was developed by Razorbill Instruments, a company set up five years ago by Dr Alex Ward, Dr Jack Barraclough and Dr Clifford Hicks while the trio were working at St Andrews University.
The firm, which is now based at the The Royal Observatory in Edinburgh, collaborated with space scientists from the UK Astronomy Technology Centre (UK ATC), who engineered the "nanosatellite".
Dr Ward, managing director of Razorbill Instruments, said: "Nanosatellites could help scientists more accurately monitor the Earth, giving us unprecedented up to date views of what's happening on our planet – including the effects of climate change.
"The earth observation data that is possible to collect from small satellites could be vital in understanding the damage being done to our rainforests, providing pin-pointed relief to disaster areas, as well as providing vital insights to agriculture and logistics sectors."
The nanosatellite designed by UK ATC is much cheaper than conventional satellites, which can be around the size of a van.
Approximately the size of a toaster, one costs less than a luxury car, compared to the region of £100 million for a more bulky model.
UK ATC needed the help of Razorbill Instruments to overcome the limitations of such a small satellite, which collected less light and produced blurry images.
The former Fife boffins found the solution, in the form of a compact high precision sensor, which aligns the mirrors on the nanosatellite when they unfold in space.
Mirrors which are folded for launch and unfurl in space, like the petals of a flower, enable the nanosatellite to collect more light.
And thanks to Razorbill Instruments they can align with an accuracy of less than a hundredth the width of a human air to produce crisp images.
Previously, the only commercially available sensors that could achieve this level of alignment were too bulky and consumed too much power to be used on such a small satellite.
Dr  Ward added: "At Razorbill, we had already been playing around with an idea for a compact high precision sensor such as this, so it made perfect sense to join forces with the UK ATC engineers on this project.
"What is tremendously exciting is that future generations of this satellite, based on the UK ATC design, with Razorbill Instruments sensors, could change what we think is possible with a small satellite."
The project received funding from Scottish Enterprise and the European Regional Development Fund.