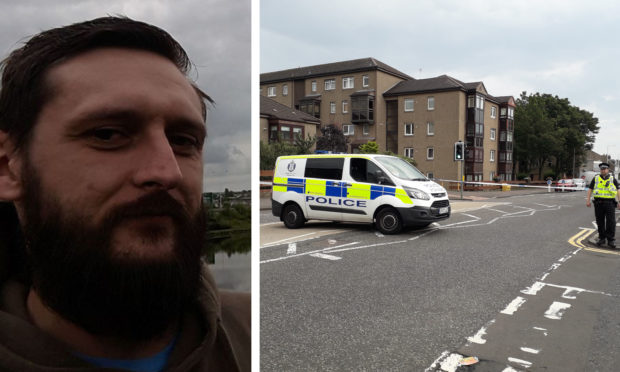 The mother of drug dealers was shot during a confrontation involving her sons in a Fife street.
Shelagh Rashid was struck by a shot fired by Robert Speed in the incident in Nicol Street, near Kirkcaldy's Novar Bar.
Customers had been drinking nearby on the pub's terrace when a disturbance broke out involving two Rashid brothers, Speed and his brother-in-law Ryan Brown on a sunny Sunday afternoon.
At Kirkcaldy Sheriff Court on Tuesday, Speed, 36, was jailed for 40 months after he admitted assaulting Ms Rashid, 47, to her severe injury and danger of her life and brandishing a golf club on August 4.
Sheriff Jamie Gilchrist QC said: "This was nothing more or nothing less than gangsterism played out in a public place in Kirkcaldy in broad daylight."
Speed, a prisoner in Perth, had driven Mr Brown, 22, and two other men to return a mobile phone to one of the Rashid brothers in Nicol Street.
Mr Brown had been asked to sell drugs for the brothers, the court heard, but no longer wanted to be involved.
Fearing trouble, one of the men had brought a BB gun and there was a golf club in Speed's Citroen Berlingo van.
When an argument broke out, Speed pulled out the club and struck Ms Rashid, who had come from her son's flat nearby. He then returned for the gun which, he claimed, he did not know was loaded.
One of the Rashid brothers had also returned with a baseball bat.
Procurator fiscal depute Ronnie Hay said: "A loud bang was heard and the complainer said 'I've been shot'."
Ms Rashid fell to the ground with blood on her neck and a passerby drove her and her sons to Victoria Hospital.
A scan found a pellet in her chest at the base of her neck. It was left in situ as it was too dangerous to remove.
Speed had fled the scene and, fearing for their safety, loaded his family into his van to drive them to a relative's house.
They were spotted by police in Golf Course Road, Glenrothes, and drove to the local police station, terrified an unmarked car tailing them was connected to the Rashids.
Solicitor Graham Inch said the gun had been brought to scare the Rashids and added: "There was never any plan for it to be used."
He said the whole incident, captured on CCTV, had not been Speed's doing, although he became involved to a higher level towards the end.
Although Speed, who suffers from bipolar disorder and schizophrenia, had a criminal record he said he had never been in trouble of that type.
Sheriff Gilchrist told Speed: "That sort of behaviour can only be dealt with by the most severe disposals available to me."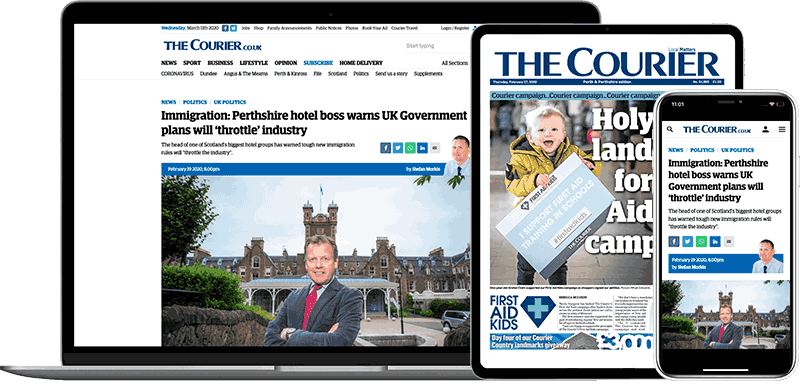 Help support quality local journalism … become a digital subscriber to The Courier
For as little as £5.99 a month you can access all of our content, including Premium articles.
Subscribe