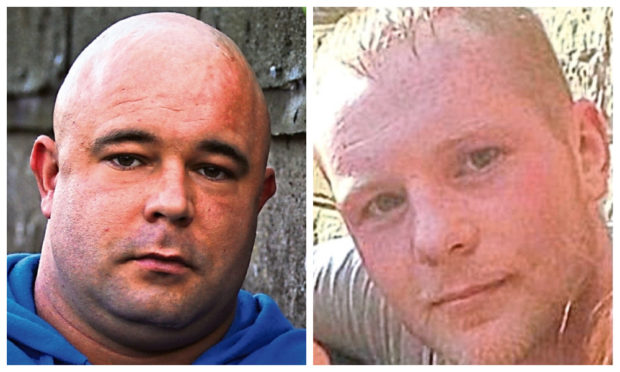 Brave members of the public jumped in to help prison officers who were being attacked by a violent long-term inmate during a hospital visit.
Sean Barclay – serving a jail term for stealing guns from a Fife army cadet base – had dragged the officers to the ground after refusing to get in the prison van when passers-by raced to help overpower him.
Depute fiscal Charmaine Gilmartin told Perth Sheriff Court: "He was conveyed to Ninewells Hospital and was single-cuffed to prison officer James McIntosh throughout the visit.
"He was returned to the van and the cell in the van was opened. He was instructed to climb in. He pulled (prison officer) Mr McIntosh towards the side of the van and started swinging punches with his free fist.
"Officer Cook exited the van to assist and was struck with an elbow to the face and all three fell to the ground.
"As efforts were made to bring him under control, members of the public came across to help."
Barclay, 29, a prisoner at Shotts, is a former TA soldier who was previously jailed for seven years for raiding the army cadet centre in Newport-on-Tay.
Man who stole fake assault rifles from Newport army cadet base jailed for eight years
Barclay ransacked the base, where he had once been a cadet, and fled with training rifles that he planned to sell.
At court yesterday he admitted attacking and injuring prison officer James McIntosh by repeatedly punching him on the body in James Black Place, Dundee, on March 11.
He also admitted attacking fellow officer Lieba Cook by elbowing her on the head to her injury during the same incident.
Barclay also admitted assaulting Allan Peach and leaving him scarred for life by hitting him with a pool cue in Perth Prison on September 26 last year.
The court was told he hit Peach – a former Royal Marine known as Peachy the Mad Bomber – so hard the cue broke in half.
Mrs Gilmartin said: "The accused came and struck him full force in the back of the head with the pool cue."
She said Peach, who is serving six years for having bomb-making equipment in his Dundee flat, was left with scars as a result of the attack.
Solicitor advocate Kris Gilmartin, defending, said: "There was a small scuffle in the cell and Mr Barclay came off worst.
"His pride having been hurt and being concerned he would become a regular victim of the complainer he decided to engage with him.
"His real concern was that if he did not take action he would be victimised by other people."
Mr Gilmartin said Barclay lashed out during the hospital visit because he felt he was being rushed along and spoken to disrespectfully by the prison officer.
Sheriff Pino di Emidio added a further year to Barclay's sentence.