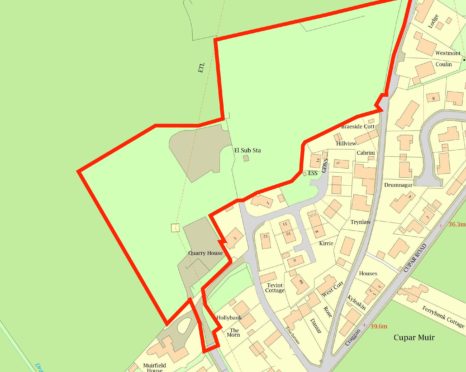 Plans which could double the size of a small settlement outside Cupar are expected to be submitted to Fife Council in the coming weeks.
Cupar Estates Limited has already lodged a proposal of application notice for land at the former RM Law sawmill site at Cupar Muir.
There are around 35 homes at the site at present. The proposed development could lead to 37 more. If approved work could begin next year.
The 3.1 hectare site is to the north of Cupar Muir and accessed by Quarry Road.
Locals were invited to comment on the proposals at a drop-in consultation event recently. The developer said their feedback would held to shape the finalised application which is likely to be submitted to Fife Council planners before the end of 2019.
Gina Logan, chairwoman of Cupar Community Council, said the new plans would be included on the community council's agenda this week and will be discussed there.
The community council will then take a view on whether it needs to make any representations to the council on behalf of residents.
A spokesperson for Emac Planning, the town planning consultants acting on behalf of the applicants, said Cupar Estates Limited was owned by a family trust and had the support of a strong professional team.
The site has been identified as a "housing opportunity" site in the FIFEplan Local Development Plan with an estimated capacity of 37 houses.
Historically the land was allocated in the Cupar and Howe of Fife Local Plan for up to 40 houses.
It has yet to be established how many properties will be contained in the planning application.
It's understood the applicants are keen to get moving on the development and have told Fife Council they expect 10 homes to be built towards the end of next year, followed by another 20 in 2021 and the remainder completed in 2022.
Kingdom Housing Association has been working on 25 new homes at another site in Cupar Muir, Mary Law Gardens, this year.