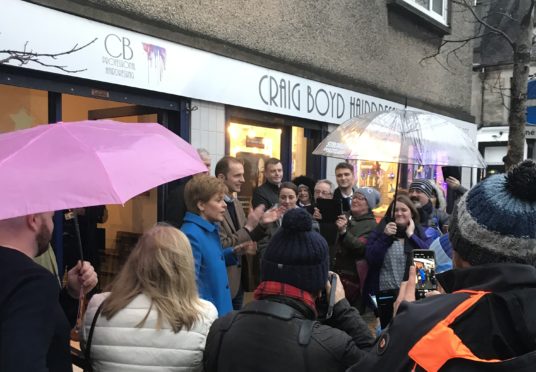 First Minister Nicola Sturgeon said Boris Johnson "does not deserve" to be Prime Minister as two of Scotland's party leaders hit the campaign trail in north east Fife.
The First Minister was in Leven on Saturday where she visited a hairdressing business to hear how staff are providing free trims for school children from low-income households.
Wind and rain could not keep the party faithful away from the SNP leader, who was in the town at around 2.30pm with candidate Stephen Gethins.
Mr Gethins is contesting the North East Fife seat – the UK's most marginal following his win in 2017 by just two votes – and Mr Grant is hoping to win back the Glenrothes constituency.
The first minister thanked those who had gathered in the centre of the seaside town and urged members to continue campaigning.
It comes after her appearance on a BBC Question Time special on Friday evening where she said she could foresee a "less formal" confidence and supply arrangement with the Labour Party if Jeremy Corbyn met her conditions on an independence referendum.
Speaking ahead of her campaign visit with SNP candidate Stephen Gethins, she said: "Boris Johnson simply doesn't deserve the chance to return to Downing Street as Prime Minister.
"Everything he has done in his short time in the job – including his illegal shutting down of Parliament – shows that.
"He is taking the Tories further and further to the right, pandering to the worst excesses of Nigel Farage and the Brexit Party."
The Scottish Conservatives hit out at Ms Sturgeon's criticism of the Prime Minister.
A spokesman for the Scottish Conservatives said: "This is yet more high-handed preaching from a First Minister who seems to think she can tell Scots what to think, but never listens.
"Nicola Sturgeon slams Boris Johnson, yet at the same time she is quite happy to usher Jeremy Corbyn into Number 10 – whose Labour party faces numerous accusations of anti-Semitism, and which has failed to respond properly to allegations of bullying in its ranks."
Meanwhile, in St Andrews, North East Fife MSP Willie Rennie focused on the Liberal Democrats' anti-Brexit stance, declaring the party the "home of remain".
He hit out at the Labour leader for his announcement that he would remain neutral on any future vote on Brexit.
Mr Rennie said: "Jeremy Corbyn has now made sitting on the fence his official position.
"It's unbelievable that he thinks as Prime Minister he can get away without having an opinion on the national crisis of our time.
"The Liberal Democrats are the home of remain. Labour cannot be trusted.
"Anyone who wants to put this constitutional chaos to bed needs to join our fight for a brighter future."
The North East Fife seat was the closest marginal in 2017, with the Lib Dems losing out by two votes.
The seat, before being one by Mr Gethins in 2015, was a Liberal stronghold since the 1980s, under Sir Menzies Campbell.
The largest swing of the vote share in 2017 was to the Conservatives, whose candidate Councillor Tony Miklinski will run again.
Wendy Haynes will contest the seat for Labour.