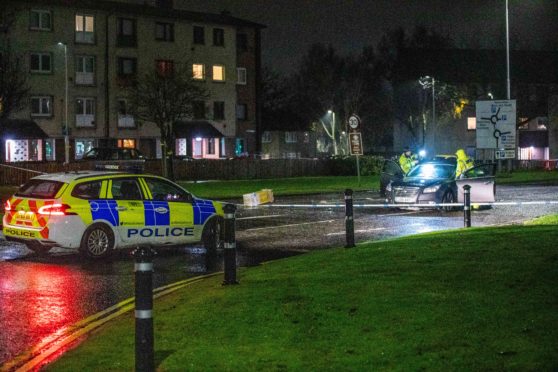 A woman has been rushed to hospital with serious injuries after being struck by a car while crossing a road in Glenrothes town centre on Saturday evening.
Emergency services were called to Church Street at around 6.45pm following the incident which involved a grey Vauxhall Insignia and a pedestrian.
The 49-year-old victim was treated by ambulance personnel at the scene and was taken to Dundee's Ninewells Hospital suffering from what police described as "serious" injuries.
The incident took place not far from the busy Golden Acorn pub, and happened directly outside the Mayflower Takeaway and Studio 8 dance studio.
A number of people are said to have seen the accident and its aftermath, with witnesses reporting that paramedics could be seen carrying out CPR on the woman on the road before she was transported to accident and emergency in Dundee for further treatment.
The road was closed in both directions for several hours after the crash as road collision investigators began trying to find out exactly what caused the accident.
Motorists in the area said visibility on the roads had been poor due to heavy rain which could also have an effect on tyre grip, although police and their partners are working to establish the circumstances surrounding the incident.
The driver of the vehicle involved was uninjured but said to have been badly shaken by what happened.
Sergeant Alastair Purvis, of the Glenrothes Road Policing Unit, said: "The woman was taken to hospital with serious injuries but is now in stable condition.
"We are appealing for anyone who may have witnessed the crash to come forward."
Anyone who may have witnessed the accident, or saw the vehicle or pedestrian prior to the crash, should contact Police Scotland on 101.
There had been a heavy police presence in the town centre around an hour before the accident in a separate incident.
Several officers had been responding to reports of a disturbance only a couple of hundred yards away.
Armed police were seen at Glenrothes Bus Station after reports of anti-social behaviour and youths potentially carrying weapons, and it is understood a number of young people were spoken to in and around the bus station area.
A Police Scotland spokeswoman said: "Police were called out to Kingdom Shopping Centre in Glenrothes at around 5.25pm on Saturday, November 23 following reports of a man with a knife and a firearm.
"A knife and a replica of a firearm were recovered by police."
The spokeswoman confirmed a 16-year-old was arrested and added: "There was no risk to the wider public's safety."