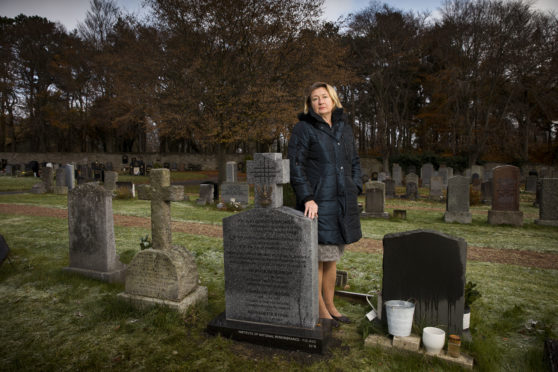 A new gravestone has been unveiled in Fife to mark the spot where a forgotten Polish war hero was buried in an unmarked grave.
General Mikolaj Osikowski fought in the 1920 Battle of Warsaw, halting the spread of the Bolshevik revolution, then moved to Lithuania where he remained until the Second World War when he was forced to flee.
He eventually settled in Scotland but was never able to return to his family and homeland and died in Dysart, Kirkcaldy, in 1950.
His final resting place was an unassuming spot in Hayfield Cemetery, but now thanks to the concerted efforts of his family, Fife Council, the Polish Consulate and the wider Polish community in Kirkcaldy, General Osikowski has been given a lasting memorial.
Members of General Osikowski's family were in attendance as the gravestone was unveiled on Saturday, with dignitaries including Fife Provost Jim Leishman, Lord Lieutenant of Fife Robert Balfour, and Arkady Rzegocki, His Excellency the Polish Ambassador to the UK.
His great-granddaughter, Dr Anna Pawliszewska, from Gdansk, moved her husband and two children to Fife to honour a promise to her dying father that she would ensure the major general's final resting place was marked.
Anna, 49, said: "One day he went out to buy cigarettes – he didn't even have his coat on – and he met one of his soldiers who told him the Russians were coming to get him.
"He had to flee, first to Romania then he made his way to France, then he was evacuated to Scotland. He never saw his wife and daughter again."
Anna was working as a paediatrician at St Thomas' Hospital in central London in 2008 when she took her father to Kirkcaldy to find out what happened to General Osikowski's body after his death in 1950.
They wanted to have his remains exhumed and returned to Poland but this was denied by the local authority when it was discovered that he was buried with two other Polish soldiers and a baby girl.
"It was very distressing for my dad," Anna said.
"But when we were there my dad noticed the Victoria Hospital was next to the cemetery and he turned to me and said 'maybe one day you will work there'."
Anna moved to Fife in 2013 with her husband and two children and indeed began working at Victoria Hospital where her office overlooks the cemetery.
After a series of letters, the Polish government agreed to arrange a memorial.
Anna said: "I am happy because it's been an overwhelming burden on me."
Justyna Majewska, manager of the Fife Migrant Forum, said it was important for General Osikowski to be remembered in such a way.
"It's great for the whole migrant community that his grave will now be visible.
"It's very important for history.
"He came to Fife as a refugee during the Second World War. It must have been heartbreaking for him to see that Poland wasn't a free country after the war.
"But this is a great celebration of what he achieved."