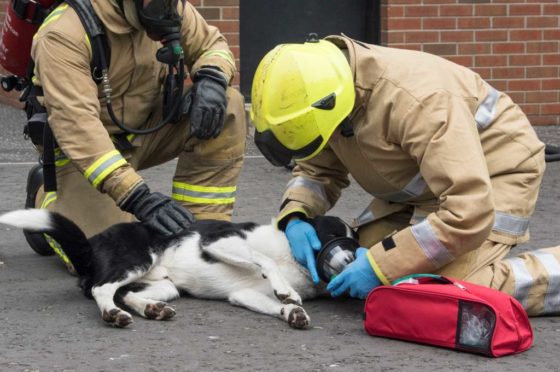 Fife fire crews have been presented with potentially life-saving breathing apparatus for pets.
The Smokey Paws breathing sets were handed over at Glenrothes Fire Station by East Lothian charity Fostering Compassion, which works with young people in Fife.
With three sizes available, the masks can be used on a wide range of animals in cases of smoke inhalation, from larger animals such as dogs and cats to rabbits, guinea pigs and even snakes.
Fostering Compassion works with looked after children to help them connect with animals. In Fife, the organisation has had referrals from Swiis Foster Care in Dunfermline and Barnardo's.
In recent years the charity has also run workshops for the Chernobyl Children's Lifeline in Fife.
It has now teamed up with the Scottish Fire and Rescue Service for a new programme of workshops in memory of a promising young veterinary student who died in a road accident. Meghan Ambrozevich-Blair, who was just 26 t the time, was the daughter of East Lothian fire fighter Kevin Blair.
Lesley Winton, the charity's chief executive officer, explained: "The new workshop, which will see the charity teaming up with the Scottish Fire and Rescue Service, will teach the children about animals who save humans and humans who save animals.
"For the latter part of the workshop, the Scottish Fire and Rescue Service will come to talk to the children about amazing animal rescues they have been part of. The children will also learn about fire safety to keep humans and animals safe."
The "Animal Heroes" workshops will also raise funds for Smokey Paws kits to be donated to fire stations in Fife, the Lothians and Borders, which do not yet have the equipment.
Meghan, who was posthumously awarded a first class honours degree from Edinburgh Napier University, was an animal welfare campaigner and a keen supporter of Fostering Compassion.
Her parents Lauren and Kevin said in a statement: "We remember Meghan talking about meeting Lesley and how excited she was about the prospect of being involved with Fostering Compassion. The workshop is such a lovely way to keep Meghan's memory alive."
Ms Winton added: "The idea of the Animal Heroes workshop came to me almost four years ago around the time Meghan's and my paths first crossed and she put me in touch with her father. After her devastating accident, I was determined the workshop would still come to fruition, but would be done as a tribute to her.
"We are greatly honoured to have her family's blessing to do this and thank them very much for their unwavering support."