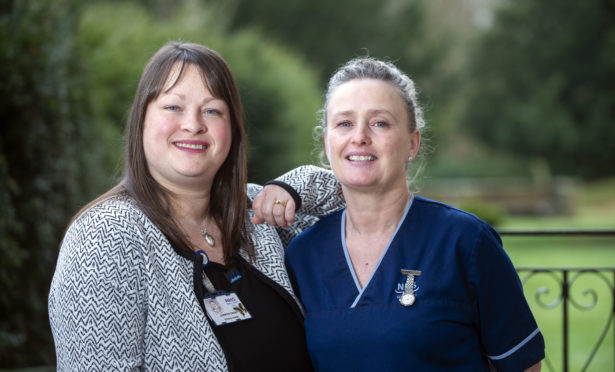 Medics serving in a school and a community in Fife have been awarded the historic title of Queen's Nurse.
Jennifer Grant, who looks after schoolchildren in Glenrothes and north-east Fife, and Mary Kinninmonth, who line manages the south-west Fife villages district nursing team, were among just 20 people given the honour.
Queen's Nurses were introduced in 1889 thanks to a donation from Queen Victoria and was last bestowed in 1969 before the post was re-established three years ago.
Jennifer and Mary were nominated by their employers for providing high quality, compassionate care and completed a nine-month development programme with the Queen's Nursing Institute Scotland.
Also a practice teacher guiding trainee school nurses, Jennifer piloted the implementation of health zones in high schools, offering pupils a confidential drop-in service.
Mary delivers and coordinates complex care which allows people to stay in their own homes when they might otherwise have been unable to do so.
She said: "I hope the Queen's Nurse title will enable me to showcase what it is we do well in district nursing and inspire others to follow."
Lynn Barker, Fife Health and Social Care Partnership associate director of nursing, said: "The title of Queen's Nurse is an honoured one and I am delighted that two of our own have been awarded this status.
"Queen's Nurses set the bar for high quality, compassionate care, which we should all strive for, and it is a source of great pride for everyone in Fife that Mary and Jen have been honoured in this way."
Titles and certificates signed by the Queen were presented by author Christie Watson at a ceremony in the Waldorf Astoria hotel, Edinburgh.
Those who work to become Queen's Nurses select an issue for development which will have a significant impact on those they care for.
Clare Cable, QNIS chief executive and nurse director, said: "Three years on from reintroducing the Queen's Nurse title to Scotland, we now have 61 Queen's Nurses working in communities across the country.
"They are extraordinary role models for nursing in the community and show the enormous contribution which nurses make to the health of Scotland's people."