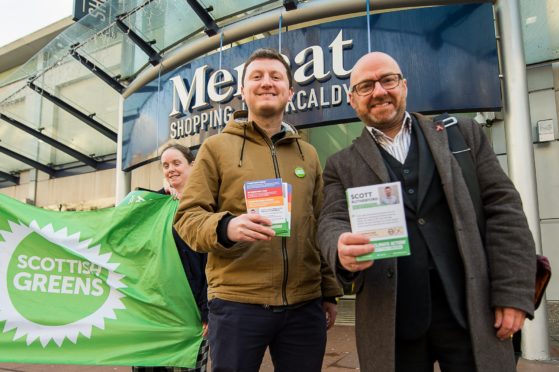 The leader of the Green Party in Scotland has called on suspended former SNP candidate Neale Hanvey to stand down from the Kirkcaldy and Cowdenbeath race, amid claims he could hand Labour the seat.
MSP Patrick Harvie has hit out at Mr Hanvey, who is at the centre of an anti-semitism storm, saying he no longer has any credibility.
The SNP withdrew its support for the candidate last week following allegations he used anti-semitic language on social media two years ago.
"There is a danger that the suspended pro-independence ex-SNP candidate could split the vote and I would encourage him to stand down, " said Mr Harvie.
"Splitting that vote could allow Labour to benefit."
He added: "He has accepted that the suspension is legitimate and he has apologised for what he has done.
"With that in mind the only credible thing for him to do now is stop campaigning, ask people not to vote for him and commit to standing down if he does get elected.
"He is not someone who can credibly represent the community."
Mr Harvie's comments came as he joined Green Party candidate Scott Rutherford on the campaign trail in Kirkcaldy.
Just 24 hours earlier, First Minister Nicola Sturgeon had urged SNP members not to campaign for Mr Hanvey who is currently suspended but remains on the ballot paper.
However, prominent former Fife SNP councillor George Kay, who has held every office in his local branch and constituency and was convener of the Mid Scotland and Fife area, has said he will back Mr Hanvey, regardless of the consequences.
Mr Kay, who served Burntisland, Kinghorn and Western Kirkcaldy as a councillor for 12 years, said he had no problem with the party taking the measures it did, but described the charges against Mr Hanvey as "absurd" and pledged to give him his "fullest support".
"My dilemma is that if I support Neale Hanvey in the coming election I, like any other party member, could face action against their membership," he said.
"I could of course disguise my support by making oblique reference to the campaign and hope no one would notice.
"However, I think the honest thing would be to weigh my party membership of 45 years against the need to see a dedicated, responsible person represent us at Westminster."
Mr Hanvey, a former councillor and SNP group leader on Fife Council, has vowed to continue his campaign, which has been bolstered with the success of a crowdfunding page which has already raised over £6,000 to help to meet his election costs.
"I'm still the same person and my beliefs in wanting a better, more prosperous and independent Scotland are exactly the same today as they were last week and last month and I think voters should have the choice to vote for that," said Mr Hanvey.
"I've been humbled by the volume of support, not only locally, but from right across Scotland and I will always support what the SNP stands for and its ambitions it holds for Scotland's future."