Tayside and Fife's growing fly-tipping menace reached a new peak after abandoned rubbish forced the closure of a road for several hours.
Concerns have been raised in recent months about the level of illegal dumping, believed to be a result of access changes to recycling centres and tighter controls on commercial users.
An investigation has been launched following the discovery of one of the worst instances of fly-tipping to date.
Motorists driving in a rural area near Kennoway were shocked to find the country road to the hamlet of Baintown completely blocked by a large pile of asbestos roofing dumped directly in the middle of the carriageway.
The council said it had caused a "serious danger" to road users.
A road closure was enforced while council employees arranged for the material to be removed.
Baintown resident Alain Forrester was one of several people inconvenienced.
He said: "Fly-tippers dumped a large pile of asbestos roofing directly in the middle of the road, blocking that exit for the residents such as myself.
"The road was closed for the majority of the day until the council were able to relocate the asbestos onto the verge and wrap it up.
"This is just another example of an ever-growing issue in our area.
"For example, further along the same road, there is a large number or tyres dumped in the ditch at the side of the road. Those have been there for several months."
Last month, a Freedom of Information response revealed the number of fly-tipping cases by Fife Council reached a six-year high in 2018, with 5,409 reports of illegal dumping made to the local authority.
However, just 140 – around 2% – of those resulted in a fine or some kind of punishment, highlighting just how difficult it is for authorities to catch the culprits.
A spokesperson for Fife's safer communities team confirmed the incident north of the Hill Road, Kennoway, on Tuesday posed a "serious danger" to road users.
Dawn Jamieson, team manager, said: "There's no excuse for fly-tipping, which is blatant disregard of the law and of our outdoor environment.
"No-one wants to see rubbish dumped in the countryside.  It has a direct impact on the condition of our parks, wildlife and areas where we live.
"Anyone caught disposing of their waste illegally will receive a £200 fixed penalty notice.  Major offenders may be referred directly to the Procurator Fiscal and could incur fines of up to £40,000.
"Help keep Fife a great place to live, work and visit. Report fly-tipping by filling out the form at www.fife.gov.uk/flytipping or by calling 03451 55 00 22."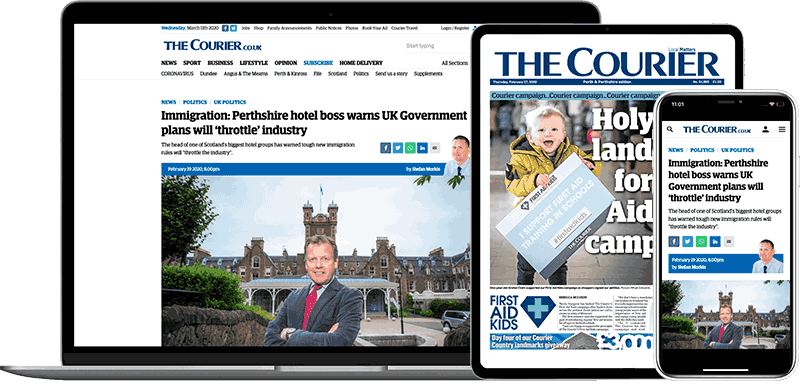 Help support quality local journalism … become a digital subscriber to The Courier
For as little as £5.99 a month you can access all of our content, including Premium articles.
Subscribe