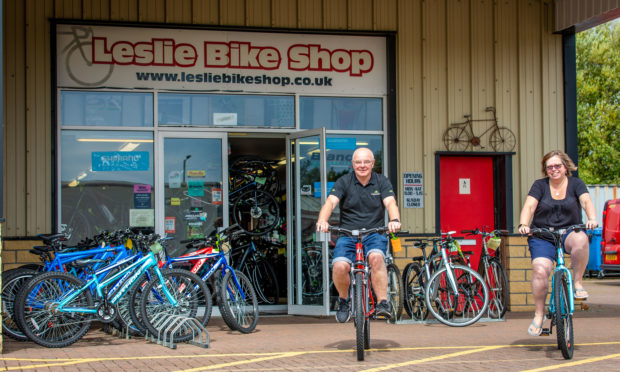 Thieves have stolen around 60 bicycles from a popular Fife bike shop.
Leslie Bike shop was broken into at around 3am on Monday, with the thieves making off with mostly brand new and unsold cycles in boxes.
Two were used high-end mountain bikes.
It is believed a large van may have been used to remove the items from the shop at Bankhead Industrial Estate in Glenrothes.
Owner Bryan Moodie, who bought the business from previous proprietors Andy and Fiona Hain in August, said staff were upset by the incident.
"As you can imagine we are all devastated," he said.
"This is our livelihoods and to have this happen has hit us all very hard."
Bryan said he was still working through a list of the bikes stolen and has urged anyone with information to contact the police.
"As far as I know so far there was a large Luton van that has been loaded with boxed bikes at around 3am on Monday," he said.
"Please, if anyone has any information or even has the slightest idea of their whereabouts, let us know or contact Police Scotland as soon as possible."
Leslie Bike Shop is well-known locally and in the wider cycling community.
It opened in Leslie High Street in 1981, eventually moving to bigger premises at Bankhead a few years ago.
It provides all types of bicycles, from a toddler's first bike to specialist machines at the other end of the scale.
Police confirmed the break-in and said they were investigating.