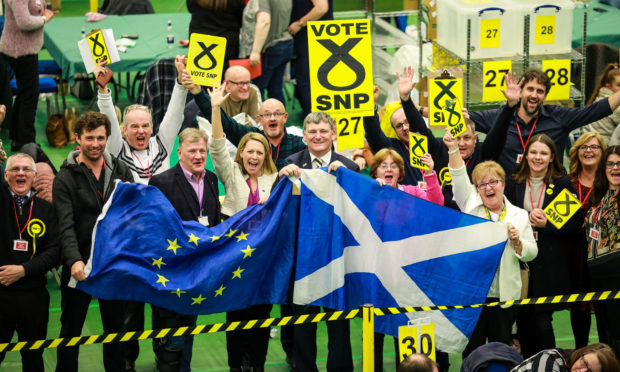 The SNP has comfortably won the Glenrothes constituency in Fife beating their nearest rivals Labour by a crushing margin.
Peter Grant, will return to Westminster for a third time after securing over 50% of the overall votes cast leaving his main rival Pat Egan in his wake.
It was a hugely disappointing night for Labour who polled 9,477 of the votes in a distant second place.
GE2019 Glenrothes result: Peter Grant holds the seat for SNP.

— Cheryl Peebles (@C_CPeebles) December 13, 2019
Conservative Amy Thomson received 6,920 votes, while Liberal Democrat Jane Ann Liston polled 2,639.
Independent candidate Victor Farrell, originally standing for the Brexit Party but ditched by them he posted homophobic messages on Social media polled 1,276 votes.
The body language of Mr Grant's campaign team was enough to indicate early on that it was always going to be a safe and successful night of the Nationalists in the constituency that has become an SNP stronghold in Fife.
"This is a clear and resounding message from the electorate that we reject Brexit and a decisive right wing Tory government in Westminster," said Mr Grant.
"I look forward to second independence referendum in 2020 where Scotland's voice will be heard."
John Beare, Mr Grant's agent and campaign manager, added: "This result is a huge endorsement for the work that Peter has done in the last four years and the achievements he has made.
"It is also a clear and resounding message from the electorate that Scotland's voice demands to be and will be heard."
It what proved a hugely disappointing night for Labour, who also lost the Kirkcaldy and Cowdenbeath seat to independent former SNP candidate Neale Hanvey, Pat Egan said it was time for the Labour Party to go away and pick up the pieces.
"We have to go and dust ourselves down and pick ourselves up and work out what went wrong here in this election," he said.
"The message on the doorsteps was positive and the campaign was clean and well conducted, I congratulate Peter on his result and wish him all the best but we have to see where we go from here."
In all 41,616 vote were cast with 70 spoilt ballot papers  from turn out of 63.29%.