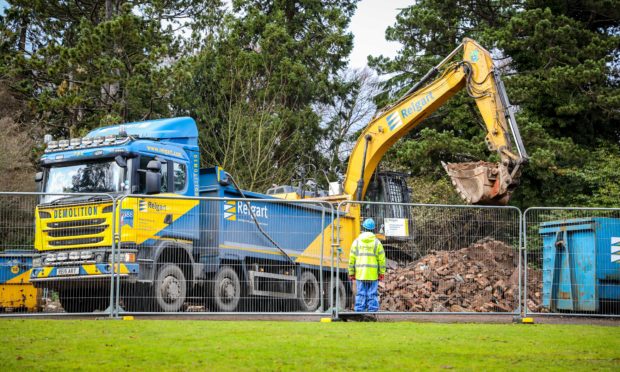 Work has begun to demolish a prominent 19th century house which was devastated by a dramatic blaze last year.
Crews began razing Silverburn House in Leven last week and the work should be completed by Thursday or Friday.
The C-listed building was at one time the focal point of the historic 27-acre Silverburn Park on the eastern edge of the town but was ravaged by a major blaze, thought to have been started deliberately, in April 2018.
It housed Polish soldiers during the Second World War but had fallen into disrepair and had been boarded up for more than two decades, becoming a magnet for vandals.
It has been pledged that work to transform the historic parkland in which it sits will, however, continue as planned.
Efforts to return the area to its former glory have been ongoing for several years, and improvements to the house itself would have been tackled in the longer term had funding been secured.
Duncan Mitchell, general manager of Fife Employment Access Trust (Feat), which is carrying out the work, said the house's demolition would pave the way for further events in the park.
"There are plans for the land it's on as it gives us more events space and extra capacity for the things we want to do," he said.
Mr Mitchell said Feat would also be looking to recruit more volunteers in the new year to help take forward plans for the land, including the creation of a new playpark and a wildlife hide.
"Our number one priority is to have a playpark in the park and we're hoping the Friends of Silverburn Park will take that on as a major project," he said.
"The playpark might go where Silverburn House was but we're trying not to dictate that.
"It's a meaty project and we're hoping the community would get behind it and help with the design and fundraising for it."
The estate has been bustling with activity since Feat took over its management and last month they recorded 6,000 visits from the public.
The organisation plans to hold a festive fair at Silverburn on December 22.