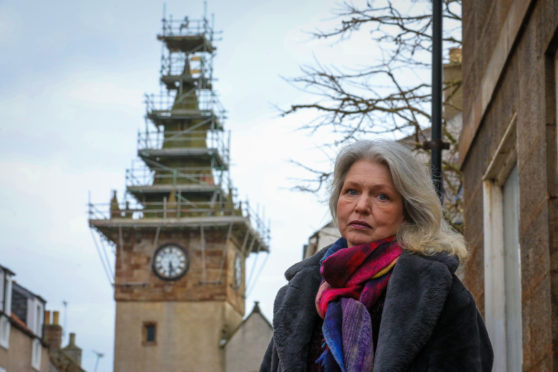 A politician has called for a shake up of how community assets are run, accusing Fife Council of years of mismanagement.
Independent councillor Linda Holt, who represents the East Neuk and Landward constituency, slammed the local authority's handling of public assets such as Common Good Funds when a report on the current state of such funds in north east Fife was discussed at committee this week.
"Ever since I was elected, my community councils have been left frustrated by the extremely poor way in which Fife Council manages Common Good assets," said Ms Holt.
"In my ward we have iconic historic properties like the Pittenweem clock tower allowed to fall into such a grievous state of misrepair that it is now a health and safety risk requiring major capital investment.
"Communities are right to feel let down by Fife Council's treatment of their Common Good, especially when they are continually told there is less public money for services.
"I am currently investigating a range of Common Good issues in my ward.
"The scandalous neglect of its Common Good duties by Fife Council has deprived communities of much-needed income.
"Wholesale reform is long overdue, and this is a process which must have the affected communities at its heart."
Ms Holt has called for local communities to have greater involvement in how Common Good Funds are administered and is urging local bodies such as community councils to have a direct say in how they are used to benefit the public.
She said: "If the Community Empowerment Act means anything, it should be enabling communities to become proactive in rescuing their Common Good from Council neglect.
"Fife Council has a duty to facilitate this process, not hinder it."
Responding to the councillor's claims, Paul Vaughan, head of service, pointed out a consultation on the common good register has recently been held and will soon be reviewed.
"At the new Common Good sub committee meeting last week it was agreed that a full review of the investments and strategy would be carried out and taken back to the committee," he said.
"Common Good investments are long term investments and their performance is monitored between Fife Council and our investment fund managers.
"Leases are legal documents and – unless a rent review is built in – the rent can only be renegotiated when the lease comes up for renewal.
"When many of these leases were signed the level of rent would have been set according to market value. As they come up for renewal they are then reassessed in line with the current markets.
"The accounts were approved by Auditors and comply with all accounting policies and regulations".