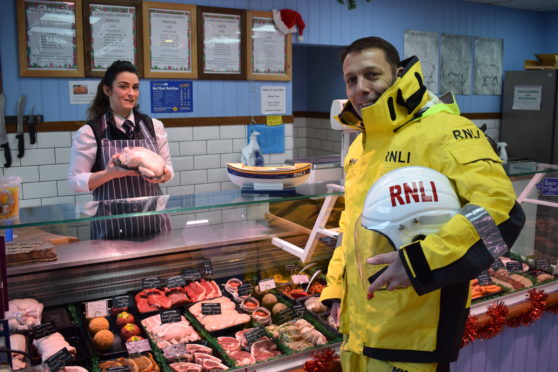 Christmas food orders have been flooding into Fife lifeboat volunteer and butcher Louise Whiteman.
Sadly, the same cannot be said for donations for the RNLI, who fear they are facing the "perfect storm" of increasing demand on its lifesaving services while donations dwindle at this time of year.
Louise, a volunteer crew member at Anstruther RNLI, is busy preparing all the festive food orders in the butchers' shop situated just a few hundred metres along the shore from the lifeboat station but still has to respond to her pager in emergencies – even at the most hectic of times.
Pulling double duty, she is backing a new drive for donations to the RNLI across Scotland as they drop, particularly "legacy gifts" — sums granted in someone's will.
Louise, who has volunteered at the station for three-and-a-half years, said: "This is a busy time for me at work with the added pressure of ensuring everyone's Christmas food orders are ready on time.
"I am one of the closest to the station when at work and will respond if the pager goes to help those in need."
During the festive period last year, RNLI volunteers across the UK and Ireland launched to the rescue 155 times, compared with just 21 call outs in 1979.
Festive periods dating back to 1979 have seen RNLI volunteers rescue 1,453 people and save 299 lives.
In Scotland alone, stations launched 11 times last year between December 24 and January 1, coming to the aid of five people.
Despite being busier than ever, the charity finds itself having to run a major fundraising appeal, The Perfect Storm, to raise at least £1.8 million and recruit 12,000 new supporters.
It aims to address a worrying £6.3 million shortfall in funds at the RNLI experienced in 2018, with legacies also down for the first time in five years, by £8.5 million.
Investments were also down £10 million because of tough economic conditions but spending was up by £4.5 million.
Jayne George, director of fundraising at RNLI, said: "The RNLI is facing some big challenges – we're busier than ever, people are still drowning, but our income is down – so we're facing our own perfect storm, and we are appealing to our supporters and the public to give what they can to help us.
"This appeal is one part of a range of activity we're undertaking to get back to living within our means, including looking closely at our work to see where we can make efficiencies and savings.
"While we're confident we can make savings, we're also refocusing our efforts on fundraising."
For her part, Louise is following in the footsteps of her grandfather, Peter Murray MBE, who served as a volunteer at Anstruther for 32 years and was coxswain for over 19 years.
Things have changed considerably since Peter joined over 55 years ago but what remains is that people are still drowning around the coast of the UK and Ireland.