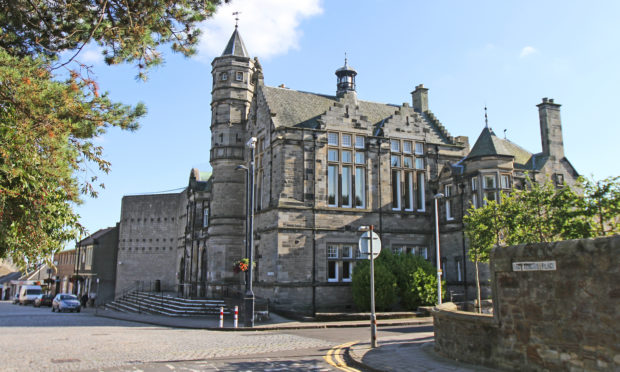 A Fife paedophile has been jailed and placed on the sex offenders register indefinitely after admitting to "grotesque" grooming and abuse of a young girl.
Nathan Ogilvie, 25, who was also caught with thousands of indecent images, was handed an extended sentence of 64 months, of which he will spend three years and four months behind bars.
Depraved Ogilvie abused the girl over a period of three and a half years. During his attacks, which happened between July 30, 2015, and January 30 of this year, he locked her in a room and threatened her with violence.
Her also forced the girl to watch pornography.
Adding to the girl's ordeal, he filmed the abuse and the footage became part of his "considerable library" of exploitative images and videos, some of which were at the most severe end of the scale.
The court previously heard how he filmed himself abusing the girl and then gave a thumbs up to his webcam.
Ogilvie, a prisoner at Perth, pled guilty to three charges including making or permitting to be made or taken indecent photographs or pseudophotographs of children between June 13, 2016, and January 30.
Sheriff James Williamson told him: "You groomed and abused her in quite a grotesque fashion and I'm afraid I have no alternative but to impose a lengthy custodial sentence.
"It was a gross breach of trust and that breach of trust not only involved your abuse of that child but involved you filming that abuse and keeping footage of it, and adding it to a considerable library of images of children."
The sheriff said he had imposed the maximum sentence available, given Ogilvie's guilty pleas.
"The starting point is a sentence of five years and that is at the end of my powers," he said.
He placed Ogilvie on the sex offenders register for an "indefinite period".
Having imposed two years of supervision following the period of imprisonment, Sheriff Williamson warned Ogilvie that any breach on his release would result in him being brought back into custody.
The court previously heard that Ogilvie, a first offender, also had a sketch pad of drawings of naked children in sexual positions and a written passage about child abduction.
He was snared by intelligence showing a device in his Glenrothes home had been used to upload indecent images and police searched the property.
His young victim said he would threaten to punch her, choke her, twist her arm or tie her up and that she tried to fight him off by biting him or pulling his hair.
Ogilvie confessed that he began grooming the girl when she was seven and would buy her presents.
During a previous hearing it was suggested that a victim impact statement would be heard at sentencing. However, this was not read out in court.