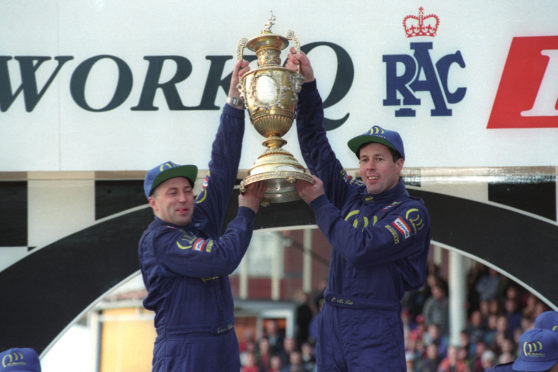 Three generations of the family motorsport dynasty are set to grace a Knockhill event celebrating the 25th anniversary of superstar Scot Colin McRae's World Rally Championship title triumph.
In October, the Fife circuit will host British rallying's biggest celebration of the Lanark ace whose life was tragically cut short in 2007 in a helicopter crash which also claimed the life McRae's young son and two family friends.
The weekend will see the second running of the invitational McRae Rally Challenge, last staged at Knockhill in 2015.
Colin's father, five-time British champion Jimmy, and the legend's younger brother, Alister will return to the event, and it has now emerged the star's teenage nephew is hoping to complete the family line-up.
Max, the 15-year-old son of 1995 British champion Alister has won multiple karting titles in Australia, where the family have lived for a number of years, and is pursuing a career in single seater racing cars.
But his dad told Autosport magazine the hope is for the rising star to compete alongside himself and his grandad at the Knockhill spectacle.
"Obviously we're all looking forward to the McRae Rally Challenge," said Alister.
"Max's gramps is very keen to have him there on the entry list. I think it would be great to have dad, me and Max on the same event.
"Max will be 16 by the time October comes, so we'll have to see what's possible, see if we can't get him into a junior car.
"We don't want him in anything quicker – we don't want to give him the chance to embarrass his gramps," he quipped.
Max said: "I'm really excited about the season ahead and the chance to make the move out of karts and into racing cars," said Max.
"At the same time, rallying is so important for me. I had the chance to go to Wales to drive some of the cars my dad and Colin drove in their career, which was amazing."
The Knockhill event of October 2-4 has already drawn major interest and will include static displays and rally action.
A Night of the Stars forum and 25th anniversary dinner will precede the main event, the highlight of which will be a parade of the rally cars Colin drove during his stellar career, including his 1995 World Championship-winning Subaru Impreza.