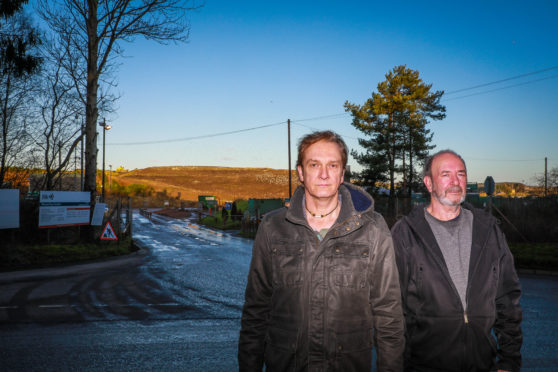 An offensive smell which has blighted communities for decades has prompted renewed calls for action.
Residents have formed a group called Stop the Stink Fife to campaign for an end to the smell from Lower Melville Wood landfill site, near Ladybank.
Graham Buchanan, one of the group's founders, said: "The smell has got considerably more frequent and more intrusive over the last few years, especially so in the last six months.
"The stories we have been told don't match what's happening to us."
Council company Fife Resource Solutions, which runs the landfill, said work will soon be carried out to cap the site and deal with waste gases, reducing the odour.
However, people living under the stench for years are sceptical.
One resident who can see the rubbish dump from her property said: "It's been a very intrusive smell for decades.
"The neighbours said the smell was in their house when they were having Christmas dinner.
"I think it's got to the stage where people are now extremely angry because they are beginning to worry about, never mind mental health, physical health.
"We don't know the effect this is going to have on the young people in the village."
The woman, who did not want to be named, said the smell seemed to be affecting a wider area and could be picked up as far afield as Auchtermuchty, five miles away.
Robin Baird, chief operating officer at Fife Resource Solutions, said: "We recently met with community representatives about this site to discuss their concerns and to let them know how work is progressing.
"We want to work with the communities involved and have offered to further meet with local people and businesses monthly. The first meeting in the New Year will be onsite and will show the local community the work we have carried out and the progress and actions we have already committed to.
"We work to the highest standard and are currently accelerating work on capping the present site, and installing a new gas well to further reduce the odours.
"Sepa is the environmental regulator of this site and is reviewing our improvement plan."
A public meeting was held in Giffordtown just before Christmas to discuss the problem, which residents say has been going on for three decades.
Willie Rennie, Liberal Democrat MSP for North East Fife, was among those who attended the meeting.
He said although one of the cells at the landfill was about to be capped, another would be opened up and it was likely the smell would return as waste decomposed.
"People have had enough," said Mr Rennie.
"They have had to live with this for a long time and it's now affecting their mental health.
"For years on end they've heard about promises that it would get better and endless attempts to get on top of it, which have ultimately failed.
"The council need to understand that this is not going to go away. Residents are not going to give up because they've had enough of this. Change is needed and it's needed urgently."