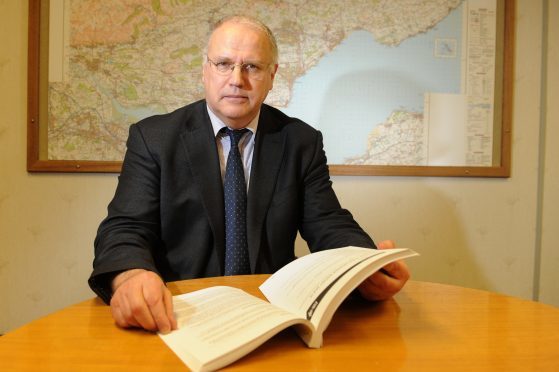 There will be further significant cuts in local services unless there is an increase in Scottish Government funding, Fife Council co-leader David Ross has warned.
The Labour leader said education, roads maintenance, leisure and recreation and environmental services could all suffer if the local authority was hit by a further 1% cut to its budget.
He has called on Fifers to put pressure on their MSPs to insist on an increase in funding for councils to support services.
Mr Ross's comments follow concerns expressed by council leaders across Scotland that they would have to set revenue budgets "blindfolded" after the UK Government announced it would not unveil its own budget until March 11.
Council budgets in Scotland will be set 'blindfolded' following spending plan date delay
He said Fife was planning on the basis of a 1% cut to funding and added: "This year we face the added problem of a delay in our grant being announced because of the timing of the General Election.
"Scottish local government has taken the brunt of the cuts in public expenditure over recent years.
"According to an Audit Scotland report published in December, local government funding from the Scottish Government has seen a cut of 7.6% in real terms since 2013-14 compared with a fall of just 0.4% in funding to other public services.
"We have already seen the impact of these cuts on basic services such as the reduction in opening times at leisure centres and recycling centres, closure of local libraries, cuts to school budgets, reductions in the frequency of grass cutting and streets cleaning and less money available for roads maintenance.
"We are overspending our budget for health and social care and for children and family services because we need to keep providing a service to the most vulnerable who depend on these services, but we have only been able to do this by drawing on our reserves – reserves which are now pretty much down to rock bottom.
"These services really need increased funding to meet rising demand, not just the current level."
Fife's SNP co-leader David Alexander said the March 11 Westminster budget announcement would make things particularly difficult for local authorities as the 2020-21 council tax has to be set by the end of the financial year.
"The Conservative Government has nothing but absolute disdain for the problems we're going to have," he said.
A date for the Scottish budget has yet to be announced as finance minister Derek Mackay wants to see the details Chancellor Sajid Javid's budget before he sets his own plans, given the impact of UK finances on the Scottish budget.
He said there was so far no clarity on the funding available for public services.
A UK Treasury spokesman said it was working with the Scottish Government to provide the information it needs to prepare its budget.