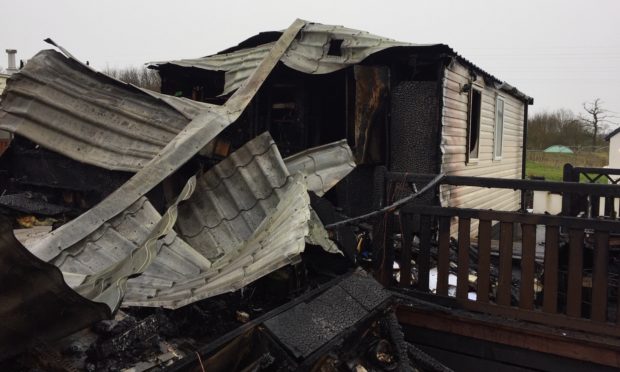 An elderly man was saved from his burning caravan by his family when a massive blaze broke out.
The 86-year-old was asleep on his sofa when the static van caught fire on Wednesday evening.
Relatives who were elsewhere on their smallholding near Windygates saw flames and leapt into action.
They pulled the man, who uses a wheelchair, to safety and attempted to douse the blaze with extinguishers until firefighters arrived.
He was unhurt but his home was destroyed by the blaze, which is thought to have been caused by an electrical fault.
His daughter said: "It was absolutely terrifying how quickly the caravan went up."
They spotted the fire at around 7pm and she said: "We immediately went to get my dad out and we managed to evacuate him very quickly.
"We got him out safely and everyone else was safe.
"It could have been much worse."
Although firefighters arrived within five minutes of being called, she said: "It felt like five hours."
The family, who did not wish to be named, also said they were lucky the emergency services had located them quickly as their land at West Meeting does not have a unique postcode.
She said: "We don't have our own postcode and we need Royal Mail to give us our own."
Royal Mail's tracker shows the location of West Meetings' postcode as a house on the other side of the A911, while Google Maps pinpoints it on the other side of the River Leven.
A Scottish Fire and Rescue Service spokesman said: "We were alerted at 7.15pm on Wednesday to reports of a caravan on fire at West Meetings, Windygates.
"Operations control mobilised two appliances to the scene where crews arrived at 7.20pm and extinguished the flames.
"One person suffered smoke inhalation.
"Crews left after ensuring the area was made safe."
Royal Mail said postcodes are only changed when absolutely necessary but a spokeswoman added: "We do have a code of practice which has been agreed with our regulator which allows us to change the last two letters of a postcode in response to customer demand in exceptional circumstances.
"It is, however, worth noting that if Royal Mail were to change the postcode we can give no guarantee this will help with any sat nav or location issues the residents may have been experiencing."