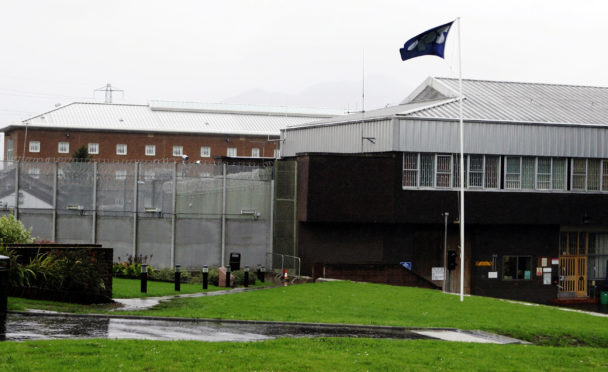 A senior prison nurse from Fife could be jailed herself after she was caught importing a banned anabolic steroid into one of Scotland's toughest prisons.
Belinda Gallacher, 40, who was the nursing team leader at HMP Glenochil Health Centre, run by NHS Forth Valley, was found with the drug methandienone on March 8.
It was discovered in her pocket during a search after she had entered the Clackmannanshire prison to start work.
Appearing in the dock at Alloa Sheriff Court yesterday, Gallacher, of Sandpiper Gardens, Dunfermline, spoke only to confirm her name.
Her solicitor, Robert Smith, confirmed she was pleading guilty to two charges against her.
The first says that on March 8, without reasonable excuse, she brought methandienone, a proscribed article and a controlled drug in terms of the Prisons (Scotland) Act 1989, into the jail.
The second says that on the same day, in Sandpiper Gardens, she was in possession of another steroid, oxandrolone, a Class-C controlled drug.
Sheriff Pino di Emedio told Gallacher that "having regard particularly" to the charge relating to the jail, he would require a background report.
He said: "I'm going to defer sentence. The clerk of court will give you a fresh date to come back in four weeks' time.
"In the meantime you will be invited and interviewed by the criminal justice social workers.
"It's important you co-operate. It's in your own best interests to do so, so that the court can have more information about you before it decides what to do about this matter."
He ordered Gallacher to return to court on February 6.
Leaving court, she refused to comment to a reporter.
Doctors say misuse or abuse of an anabolic steroid can cause serious side effects such as heart disease, stroke, liver disease, mental/mood problems including so-called "roid rage" and abnormal drug-seeking behaviour.
Glenochil Prison contains some of Scotland's most violent and dangerous male prisoners.
It is understood that Gallacher maintains the drugs were for her own personal use.
A spokeswoman for NHS Forth Valley said: "We can confirm that an internal investigation is ongoing into the conduct of a member of staff.
"The individual has also been referred to the Nursing and Midwifery Council."