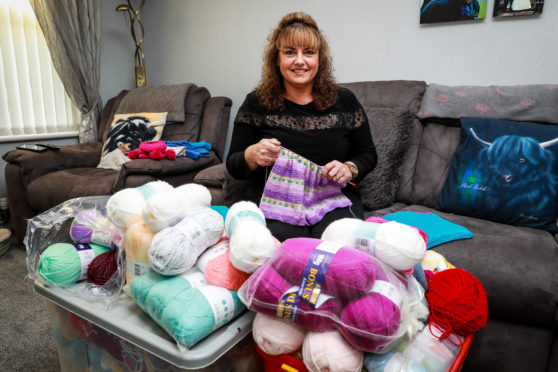 A Fife knitter has her needles at the ready in a bid to help displaced wildlife affected by the Australian bush fire crisis.
Kinglassie mum Gail Cheney has vowed to "knit round the clock" to provide animal pouches, nests and shelters to help the relief effort after watching the devastation caused by the fires unfold on television.
And since she put an appeal out on social media for donations of wool, Gail has been inundated with offers of support from family and friends wanting to do their bit to support the charity effort to be sent down under.
Her appeal comes as Australia continues to be ravaged by wild fires across all states decimating vast areas and which has caused at least 27 deaths so far.
Thousands of homes have also been destroyed, while thousands of square miles of land has also been scorched as the country continued to battle the national emergency.
"It's heartbreaking to see the devastation and people in such terrifying circumstances  and I just felt compelled to do something to help," said Gail.
"It's easy to forget that the impact is not just on human but also the wildlife habitats of everything that lives in the way of those fires.
"I've been a keen knitter since I was a child and as a member of a crafting group who issued an appeal for help.
"The online group has nearly 150,000 members who were putting ideas forward as to how best to help so when I decided to put it up on my own Facebook page what I was doing it's gone crazy with people wanting to help."
Answering Gail's call for help, Kinglassie based charity Kats Mission has donated a large consignment of wool as well as cash to help transport the finished pouches out to the affected areas in Australia, while scores of friends and and family have also offered to help or requested patterns as they too.
"So many people have been moved by the images on our television screens so the more that get involved the better," said Gail.
"Whether we knit one pouch or hundreds, we can all do our but and whatever is done will have a positive outcome.
"And as it will take months even years for the natural habitat to come back, the areas affected will need the items we send over for many months to come once this the  fire has been dealt with."
For more details on how you can help, go to the Animal Rescue Craft Guild Facebook page.