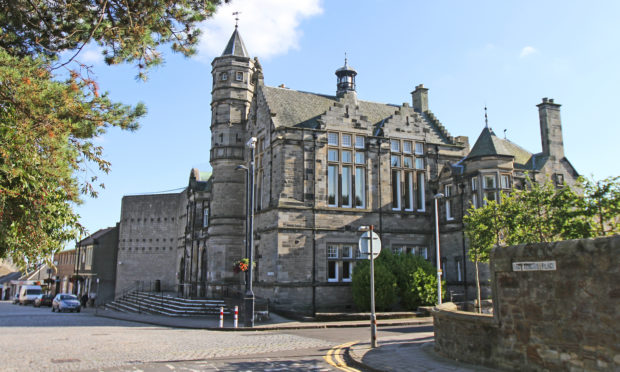 A man accused of assaulting two women while they were pregnant allegedly struck one of them with a microwave.
Alexander Burke, 28, is charged with a catalogue of abuse of his former partners in homes they shared in Methil, Dysart and Ballingry.
Kirkcaldy Sheriff Court was told there was a red mark on the stomach of one of the women following an incident involving a microwave.
Giving evidence on the sixth day of Burke's trial before a jury, the mother of the alleged victim stated her daughter was expecting a baby at the time.
She said: "She had a big red mark across her tummy."
The woman also claimed Burke, known as Sandy, spoke to her daughter "like a piece of dirt" but said she had not told her at the time about the assaults she endured.
Asked how her daughter was when she was with Burke, she said: "She wasn't happy, I know that for a fact. I told her time and time again to get out of it but she was too scared to leave the relationship."
Other than the red mark, she admitted she had never seen any injuries on her daughter, when cross-examined by Burke's solicitor Lee Qumsieh.
The alleged victim's sister told the court she had seen "plenty" of bruises on her sister and that Burke had threatened he would break her legs.
She said she did report her concerns to police because her sister was scared and would not have spoken to officers and she denied lying in her evidence to support her sister.
Burke is accused of assaulting the woman on various occasions between May 2011 and August 2014, including pushing her down a flight of stairs, placing a knife against her neck, pulling a scarf around her neck and spraying aerosols in her face, to her injury, impairment and the danger of her life.
He is also accused of assaulting the other woman between June 2017 and April 2018 to her injury and to the danger of her life, including attempting to punch her stomach and putting a lit cigarette on her.
Burke, of Methilhaven Road, Methil, is further accused of behaving in a threatening or abusive manner towards both women, threatening violence and making abusive remarks towards them.
He denies all four charges against him and his trial before Sheriff Grant McCulloch continues.