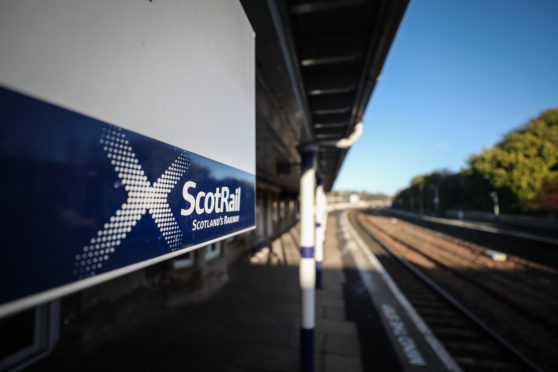 Short-changed Fifers saw the number of cancellations on the Fife Circle line double last year, according to new figures.
The statistics, obtained by Scottish Greens MSP Mark Ruskell, revealed an average of 38 train services were shelved each week, with 2,007 cancellations in total recorded on the region's local rail route in 2019.
In addition, 65,680 trains were delayed by more than five minutes across Scotland in 2019, including 2,918 on the Fife Circle and 1,739 on the Edinburgh to Aberdeen service which calls at stations throughout the kingdom.
That amounted to 13 trains typically delayed trains every day in Fife.
The news flies in the face of a new survey that suggests nearly nine out of 10 passengers are satisfied with ScotRail services, with watchdog Transport Focus noting that 89% of 1,344 ScotRail passengers surveyed in autumn 2019 were satisfied with the train operator.
The response was up 9% on the same period the previous year, which marked a 15-year low, but campaigners pushing for more investment in the region's railways have cast doubt on just how content Fifers have been with what they have had to endure.
"The huge number of cancellations and delays on Fife's rail services is totally unacceptable and shows the need for significant investment in rail travel in Scotland," Mr Ruskell said.
"Scotland's antiquated rail network is creaking under the pressure and needs to be maintained and enhanced.
"We're still waiting for additional rolling stock in Fife to ease the overcrowding commuters face each day, and more modern trains would help reduce the number of breakdowns and delays on the service
"Communities in Fife deserve a better rail network, and better trains."
The annual National Rail Passenger Survey (NRPS) found around three-quarters of ScotRail passengers – 78% – were satisfied with the punctuality and reliability of the trains.
Less than half, or 45%, found how the train operator deals with delays to be satisfactory, while just over half, 55%, believed they receive value for money.
The satisfaction score for the level of crowding was 77% and the information provided during journeys scored 78%.
Of the 41 factors surveyed for trains and stations, ScotRail improved in all but six.
Among the largest increases were the satisfaction score for the availability of power sockets on trains and usefulness of on-train information about delays.
Bike and car parking at stations were among the largest falls.
Transport Focus chief executive Anthony Smith said: "Passengers in Scotland have felt the benefit of investment and stabilised performance.
"Satisfaction with punctuality has increased and this is crucial – the most important thing for passengers is a service they can rely on."
Phil Campbell, ScotRail's head of customer operations, said parent company Abellio's £475 million investment in new and upgraded trains is helping to improve the railway.
He said: "Everyone at ScotRail is working flat out to deliver the service that our customers expect and deserve.
"I am delighted to see such a significant increase in customer satisfaction, which shows that the hard work of our people is paying off."
Last month, the Scottish Government announced Abellio will to be stripped of the contract to run ScotRail services three years early.
The franchise will now end around March 2022, with the move following criticism for overcrowding, rising ticket prices, delays and cancellations.