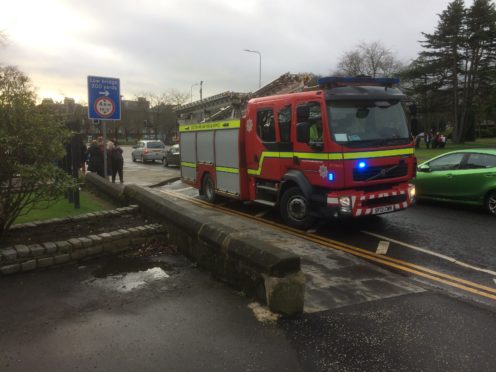 The 40th Fife Festival of Music was thrown into disarray on its opening day when a water tank at the venue sprung a leak.
Organisers are liaising with schools and trying to rearrange sessions after the much anticipated event at Adam Smith Theatre in Kirkcaldy suffered a setback on Tuesday.
Around 150 children and 100 adults, including parents who had turned up in support, were evacuated from the building in Bennochy Road when the fire alarm was activated just after 11am.
Local primary school choirs had just sung in the opening session of the two week festival.
Youth Music Initiative Voice Gym sessions scheduled for the afternoon had to be cancelled.
Two fire crews were sent to the theatre.
Fife Festival of Music (FFoM) chairman Graeme Wilson said there was no panic and praised the school pupils for their reaction to the emergency.
"We were just about to start the second session when there was evidence of water leaking somewhere, then the alarm went off," he said.
"The evacuation was textbook and the children were great. The teachers took them out, and all the festival staff and theatre staff worked together, and everyone went across the road and into the memorial gardens."
Mr Wilson said he was busy phoning schools involved in the festival to update them about the situation.
He said he was still waiting to hear if the theatre building would be open again in time for Wednesday's programme.
"I'm just in the process of trying to rearrange the two sessions that were missed for Friday, but that's not definite yet," he added.
Adam Smith Theatre is the main venue for the festival. Additional sessions at Carnegie Hall in Dunfermline went ahead as planned on Tuesday. The programme for Cupar's Corn Exchange will still go ahead as scheduled on Wednesday.
Now in its 40th year, the festival has encouraged generations of Fifers to get involved in music.
Schoolchildren take part in competitive and non-competitive classes in a range of disciplines from solo instrumentalists to choirs and orchestras.
Mr Wilson said this year was an important milestone for the event.
"A music festival in Fife had existed in the 1920s and 1930s ceasing around the time of World War Two," he said.
"It was revived as Fife Festival of Music in 1981 led by the late Richard Galloway and a team of local musicians with commercial support."
He added: "Music brings joy to so many and provides health and wellbeing options across the range of humanity.
"It is a privilege for Fife Festival of Music to host performers of all types and at all stages of learning and development, and it is a pleasure to welcome listeners to enjoy these live sounds and presentations."