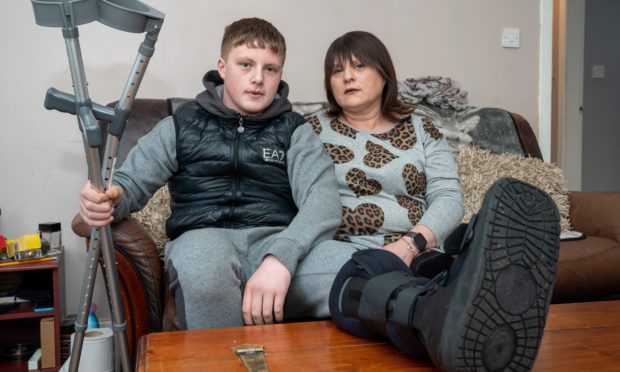 A budding young footballer has appealed to a "heartless" hit and run driver who left him bleeding in the road with three broken bones.
Fourteen-year-old Cailean Birrell has urged the unknown man to do the right thing and hand himself in to police amid fears he could strike again – with more serious consequences.
The Levenmouth Academy pupil said the driver had wound down his window and sworn at him before speeding off after the incident outside his home in Methil on Sunday evening.
"There's no way he couldn't have known he'd hit me and it's actually scary he's out there still driving about," he said.
"If he'd hit anyone younger, it could have been life-threatening."
Caileann, who plays centre back with Kennoway Star Hears, expects to be out of action for months after breaking his foot and will need physiotherapy.
He also suffered an injury to his knee that will leave him scarred for life.
The youngster had been standing with five friends in a parking area across from his house in Kirkland Walk at around 8.15pm when he was knocked to the ground by the black saloon, thought to be a Vauxhall Astra or Ford Focus.
"He pulled away from the kerb and when he drove along he hit the side of me," said Cailean.
"I went flying and when I landed, my foot went under the back wheel.
"He put down the window and shouted 'effin watch' and then just drove away.
"I was bleeding all over the place and just lying there."
Cailean's friends helped him home where his mum Karen was busy getting her younger children ready for bed.
She said she panicked when she heard someone shouting "Cailean's been knocked down".
She took him to hospital where an x-ray revealed at least three broken bones in his foot. The injuries will need further investigation once the swelling reduces.
"This area is terrible for speeding cars and motorbikes," said Karen, an educational assistant at a Glenrothes primary school.
"I think it's disgusting that someone could knock a child down and drive away.
"He saw him lying on the ground, he didn't know what kind of injuries he had and he drove off.
"That's the scary thing about it, that somebody could be so heartless."
Cailean and Karen have appealed for anyone who witnessed the incident, or who has CCTV footage, to contact the police.
Cailean hopes the driver's conscience will be pricked and said: "I'd like him to come forward but I don't think he will."
Police have also asked for information and urged the driver to contact them.
Anyone who can help should call 101 quoting incident number 3435 of January 26 2020, or phone Crimestoppers on 0800 555 111.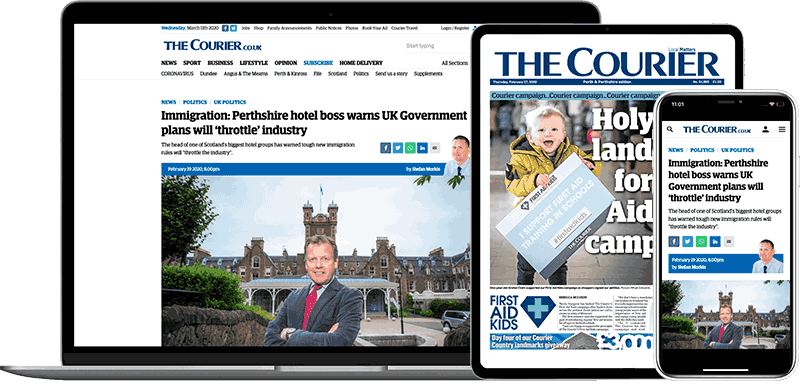 Help support quality local journalism … become a digital subscriber to The Courier
For as little as £5.99 a month you can access all of our content, including Premium articles.
Subscribe