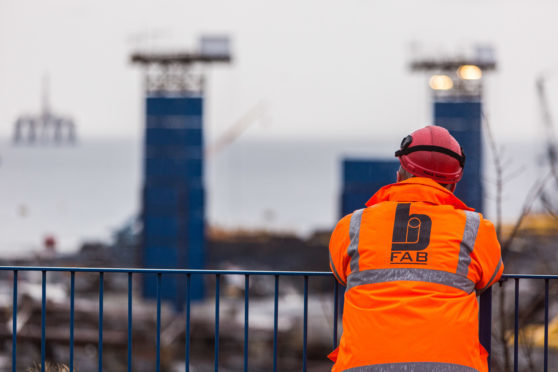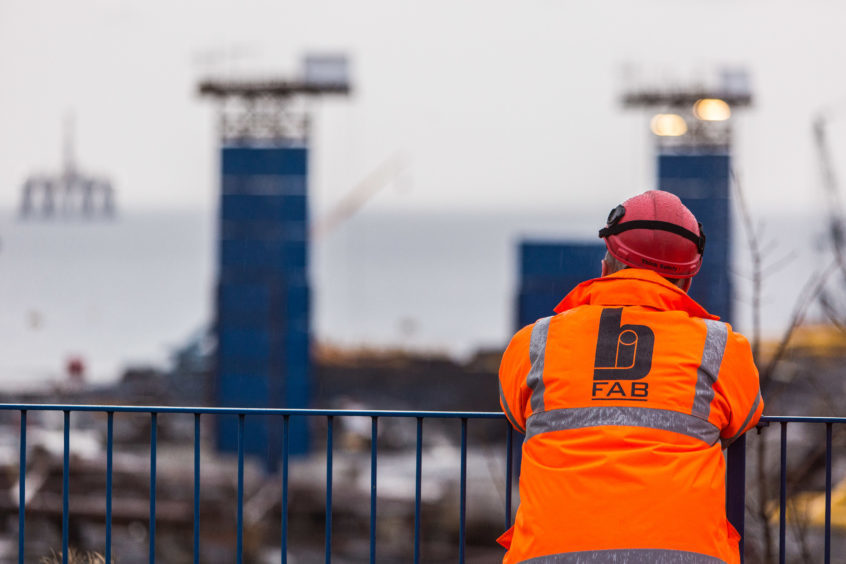 A further 16 job losses have been announced at BiFab, just days after the Scottish Government pledged to safeguard offshore jobs.
The company, which has yards in Methil and Burntisland as well as on Lewis, blamed the layoffs on the wind-down of oil and gas manufacturing work.
They will leave nothing but a skeleton staff to maintain the three yards by the end of February, unions said.
BiFab owner DF Barnes confirmed its current project had come to an end but insisted it remained confident of securing new contracts and creating more jobs.
The announcement comes amid speculation that a vital contract from the Neart na Gaoithe (NnG) offshore wind project could be further delayed until August.
The GMB union has laid the blame at the door of the Scottish Government and Scottish Renewables, an organisation dedicated to growing Scotland's renewable energy sector.
Hazel Nolan, GMB Scotland organiser, said: "The minister for energy and the chief executive of Scottish Renewables should hold their hands up and admit 'we are failing to bring the green jobs revolution to Scotland'.
"Another score of redundancies was confirmed at BiFab today and the three yards in Fife and Lewis will again be maintained by a skeleton staff by the end of February while we desperately hope for scraps of work from our own billion pound offshore wind developments."
Ms Nolan added: "It's a sad close to a week where both Mr Wheelhouse (energy minister) and Mrs Mack (Claire Mack of Scottish Renewables) spoke about their 'excitement' and 'enormous interest'  over our offshore wind sector, ignoring the distress supply chain firms currently find themselves in, along with the communities who need them.
"The truth is that under their respective stewardships our offshore wind sector boom has been strong for workers in countries like Indonesia, Spain and the UAE – anywhere but Scotland, frankly."
Earlier this month trade unions held a crunch meeting with Scottish Economy Secretary Derek Mackay who said he would do everything possible to create and retain Scottish renewables jobs.
Scotland's Energy Minister, Paul Wheelhouse, said: "After helping BiFab to avoid the threat of administration, the Scottish Government has been in regular contact with the company, investors and relevant parties to ensure a strong, sustainable future for BiFab. By working with the company to secure new business, we hope to provide the best means of creating jobs in the longer term."
He said staff were supported through the Partnership Action for Continuing Employment (PACE) initiative.
"We are doing everything within our limited devolved powers to retain and boost job numbers and increase Scottish content in offshore wind projects," Mr Wheelhouse added.
"That includes efforts to support local supply chains to improve their competitiveness in winning work.
"Ultimately, though, the all-important financial support mechanisms are controlled by UK Ministers and it is those mechanisms that are making it more difficult for domestic fabricators."
Claire Mack, Chief Executive of Scottish Renewables, added: "Offshore wind farms are multi-billion pound infrastructure projects, and those in Scottish waters are being delivered to help meet our energy needs and tackle climate change. These projects are already creating jobs in Scotland, and the potential for future investment and employment is enormous."
She said: "As offshore wind deployment increases towards the Scottish Offshore Wind Energy Council's target of 8GW by 2030 – an eightfold increase on today – industry remains committed to delivering the maximum economic benefit from offshore wind to Scotland, and we would welcome constructive discussions with unions on doing so."