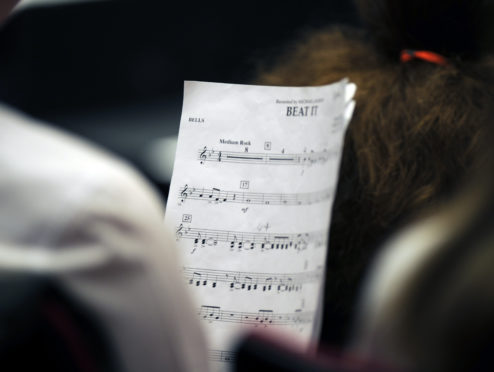 Hiking the cost of instrumental tuition in schools by more than 50% is among a raft of options for plugging Fife Council's enormous budget gap.
The cost cutting measures, contained in a document circulated to councillors, have been drawn up by council officers as the local authority faces a £82.5m funding gap over the next decade.
At present, Fife parents pay £220 if one of their children wants to learn a musical instrument in school.
However, independent councillor Linda Holt highlighted options contained in the document which could see fees increase to £345.
It follows a 76% increase in Fife music tuition fees in the three-year period from 2014 to 2017.
Fife Council's education convener, SNP councillor Fay Sinclair, has accused Ms Holt of "political scaremongering" and stated budget proposals have yet to be brought forward.
The options come with the caveat any increase could be accompanied by a fall in families wishing to pay for tuition and a reduction in numbers taking up the service would mean income was not generated.
If implemented, fees would initially increase to £265, with the potential to rise to £310, which would generate £100,000 in income.
A rise to £345 would garner the same level of income, assuming there would be a 10% drop off rate.
"Playing an instrument is proven to enhance cognitive abilities, increase social skills and improve all-round learning outcomes," said Ms Holt.
"At a time when the Scottish Government and local authorities are spending millions in an attempt to close the poverty related attainment gap, it makes no sense for a council to create a bigger gap by upping the charges for music tuition.
"Indeed, the Scottish Government recommends that instrumental tuition in schools should be free."
Ms Holt has raised the issue with Ms Sinclair, and suggested that Pupil Equity Funding, which is additional Scottish Government funding paid directly to schools with the aim of closing the poverty related attainment gap, should be used to abolish instrumental tuition charges.
Ms Sinclair said: "The claim that cuts to music tuition are on the agenda is nothing more than political scaremongering – no budget proposals have yet been tabled."
She added: "I'm absolutely appalled by Councillor Holt's suggestion that funds allocated to help our most disadvantaged pupils should be removed from schools.
"While I agree that instrumental music tuition is hugely beneficial, Pupil Equity Fund is money allocated by the Scottish Government to individual schools for targeted activity to close the poverty related attainment gap.
"It is not possible, nor appropriate, to divert that money for a universal Fife provision."
In 2014, the annual fee for Fife pupils learning an instrument was £125. This was increased to £140 in 2015, then to £180 the next year and £220 in 2017.
Last year, the Scottish Parliament's Education and Skills Committee concluded music tuition in schools should be provided free of charge.
The Holyrood committee's convener Clare Adamson MSP said at the time: "There is little doubt about the positive benefits that music can have on us as individuals, as communities and indeed to the wider Scottish culture and economy."
South Ayrshire father and trombonist Ralph Riddiough has claimed Scottish councils are breaking the law by charging fees for musical instrument lessons and is seeking a judicial review.