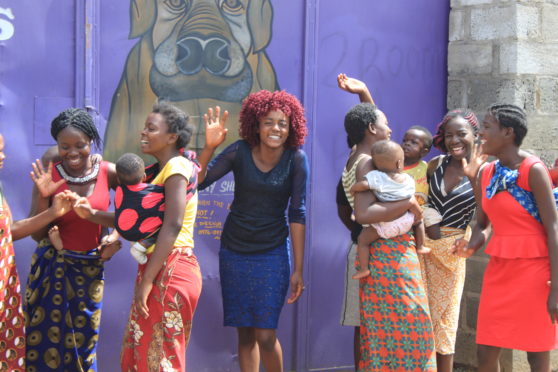 A Fife banker and a Perthshire farmer are following in the footsteps of David Livingston as they travel to Zambia to visit a groundbreaking project which supports teenage mothers.
Tasha Scotland from Dunfermline and Helen-May Bayne from Auchterarder will be visiting the Journeying Together project, run by the United Church of Zambia, in Kanyama, a district on the edge of the African nation's capital, Lusaka.
The pair will see how a £40,000 donation from the Church of Scotland Guild is helping to support 50 girls in the densely populated area which is often struck by severe flooding during the rainy season.
Very few of the homes have toilets and poor drainage and sanitation can lead to outbreaks of cholera and dysentery, putting babies and small children at particular risk.
The project, run by Deaconess Mable Sitchali, trains the girls in areas such as nutrition, parenting and sex education and works to build their confidence and challenge social injustice. They are given the opportunity to return to school to finish their education or take up vocational training in a skill that will allow them to make their own money.
Banking consultant Tasha, 23, a member of the guild and St Ninian's Church in Dunfermline, said she was "absolutely buzzing" to have been selected for the seven-day trip at the end of the month.
"From the bottom of my heart, I thank everyone who has supported, prayed, donated to myself and attended fundraising events that I have held, to allow me to go on this amazing journey and adventure," she said.
Helen-May, an elder at Muthill Parish Church, said: "I'm looking forward to meeting some of the young mums the guild is supporting through this project and, as we spend the week together, gaining more of an insight into their lives and the issues they face."
Karen Gillon, associate secretary of the guild, said the project was helping to break the vicious circle of poverty.
"It is about giving young women a hand up, not a hand out because what they really want is the chance to finish their education, get a job and give their child the best possible start in life," she said.
Scotland's links with Zambia can be traced back to the 19th Century to the days of missionaries like David Livingstone.
The Moderator of the General Assembly of the Church of Scotland, Rt Rev Colin Sinclair, is also visiting the country at the same time. He worked there as a training officer for Scripture Union in the 1970s before training for the ministry and lived in a car for three years.