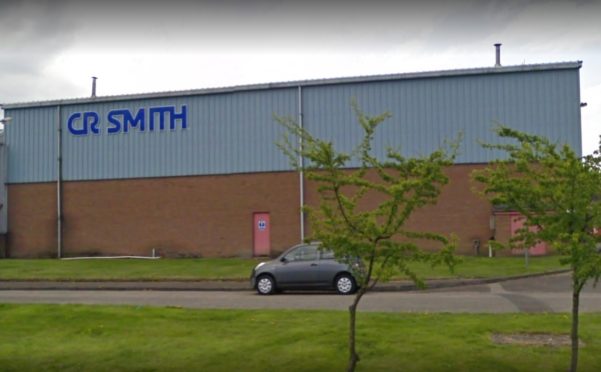 A worker suffered life-changing injuries when he was run over by his own forklift truck in a horrifying industrial accident.
Peter McGuire, 66, sustained multiple fractured ribs, a fractured breastbone, punctured lungs and kidney damage when the vehicle hit him at CR Smith's Cowdenbeath depot.
The glazing firm was yesterday fined £12,500 for breaching health and safety legislation.
Dunfermline Sheriff Court heard the runaway forklift truck had a defective accelerator pedal, which had jammed.
Mr McGuire's injuries kept him off work for 18 months and still affect him.
The court heard the fault in the equipment, caused by corrosion, had been reported by workers in the weeks leading up to the incident but nothing was done.
The drivers resorted to looping plastic strapping or string around the pedal to pull it back up if it became stuck in the down position.
Mr McGuire, from Kirkcaldy, who has worked for CR Smith since 1982 and still does so, had been demonstrating to another driver how the pedal was sticking.
He was rushed to hospital where he spent four days in intensive care before moving to the high dependency unit. He was released after more than two weeks but remained off work and was diagnosed with post traumatic stress disorder.
The faulty pedal had been reported numerous times but nothing was done.
The Health and Safety Executive visited after the June 2015 accident and an inspection found the forklift truck was "generally not in good condition" and "not safe to use".
CR Smith Manufacturing general manager Colin Eadie was in court for yesterday's hearing.
He heard Sheriff Charles MacNair make clear his displeasure over the time it had taken to bring the matter to court and the fact it had been prosecuted under summary procedure, which limited any fine to £20,000.
Dunfermline-based CR Smith Manufacturing pled guilty to failing to ensure the forklift truck was maintained and in good repair, resulting in corrosion occurring in the shaft of the housing of the accelerator pedal.
As a consequence when Mr McGuire pressed the pedal into the depressed position, the truck moved forward, failed to stop when he ceased pressing it, causing the truck to travel through a roller shutter door whereby he was crushed, to his severe injury.
Despite the guilty plea, defence solicitor James Mulgrew repeatedly blamed Mr McGuire for the accident.
He said "but for his actions an incident of this nature would not have taken place" at the start of his submission to court and repeated it at the end.
A spokesperson on behalf of CR Smith said: "We have accepted responsibility in these complex and unfortunate circumstances and have supported the member of staff concerned since the accident and throughout his recovery.
"We are pleased that he is now back at work and has resumed his role in our manufacturing plant."