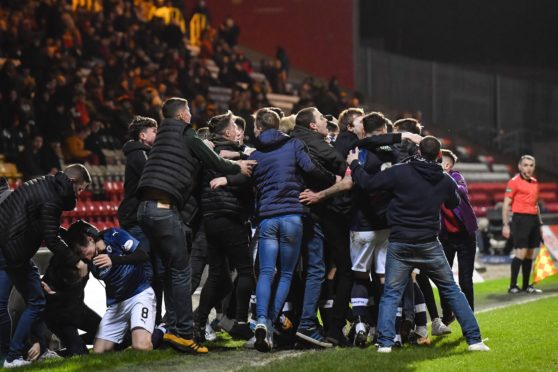 Raith Rovers could face a hefty financial outlay after it emerged Partick Thistle are seeking to recover costs for damage suffered to seats during last Friday's Tunnock's Caramel Wafer Challenge Cup semi-final.
The Kirkcaldy club issued a strongly-worded statement criticising the supporters responsible following the 2-1 victory after significant damage was caused to the front of the Jackie Husband Stand at Firhill Stadium.
A smoke canister was also set off in the stand's concourse which caused further damage.
Raith Rovers criticise 'unacceptable' behaviour of fans who damaged seats at Partick Thistle's Firhill Stadium
However, while Raith branded the behaviour of those fans as "unacceptable" and pledged to ban the culprits, Partick Thistle has now written to the SPFL asking for Rovers to pay for the damage inflicted.
An application has been made under regulation H40 to the SPFL, which states that the visiting club should compensate their hosts if damage is caused "to the fabric of a home ground or neutral venue, including any fixtures and fittings and/or the pitch".
A statement from Raith said the club is "awaiting further developments" and relayed the specific regulation on its website so that those who were responsible have a "clear understanding of the impact on their club and others".