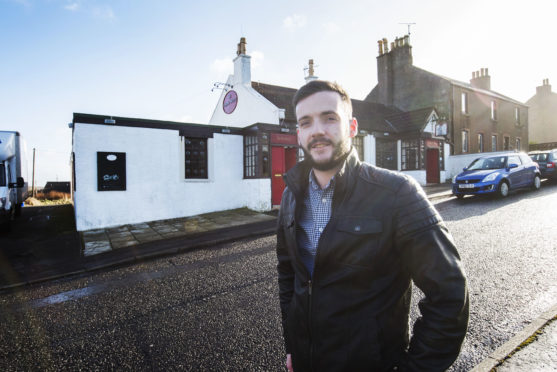 One of Scotland's oldest pubs is to undergo a major £450,000 refurbishment to help it thrive again.
The Chapel Tavern in Kirkcaldy, which dates from 1605, will be transformed into a family-friendly venue with food following the building work, that starts on Monday.
But while the Chapel Road pub may be old, it will be managed by one of the town's youngest licencees.
Reece Webb, 23, has ambitions to turn it into a community hub complete with meeting spaces for local groups and good causes once it reopens in late April.
Reece, whose family are all in the hospitality industry, began helping in a restaurant kitchen when he was just 10.
"I've wanted a pub of my own for as long as I can remember," he said.
"The Chapel Tavern is a beautiful old pub with a lovely atmosphere.
"The plans for it are amazing. I feel incredibly lucky it will be my first pub."
He added: "I used to drink here on nights out in Kirkcaldy, but never dreamt I'd run it one day.
"I'd like to make it a local the community is proud of. that provides great food, drink and entertainment on their doorsteps."
He said he would consult with regulars and other members of the community on any activities they would like to see at the pub.
Ten jobs will be created following the investment, which will include repainting, adding new signage and lighting, enlarging the windows and creating an outdoor terrace with seating.
The cellar will also be overhauled and state-of-the-art dispense equipment installed.
The overall look will be in a country style with exposed original stonework and an open fireplace with log burner.
The Chapel Tavern is owned by Edinburgh-based Star Pubs and Bars.
Operations director for Scotland Brian Davidson said: "Reece's experience, energy and enthusiasm are just what the Chapel Tavern needs to bring it back to life.
"The pub will have something for everyone when the development is completed.
"We're working hard to reopen it so that people can make the most of the gorgeous new terrace when the warmer weather arrives."