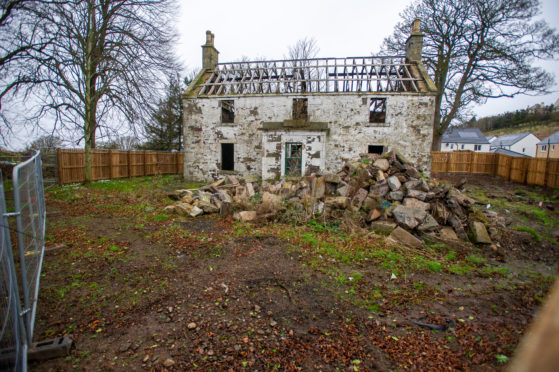 A national housebuilder has insisted it is preparing to renovate a dilapidated north east Fife farmhouse, amid fears it had abandoned the project.
Persimmon Homes said it had drawn up designs and appointed a contractor to rebuild the Wormit farmhouse, which has been almost destroyed by the elements.
The assurance comes more than a year after the company was granted planning permission for the work, as part of a wider application for 42 new homes nearby.
A further application for 158 homes on a neighbouring site, that will increase the size of the village by 40%, was approved in December, despite a large number of objections from locals who feared the development would overwhelm the community.
A number of residents expressed concern that approving the new development before the house at Naughton Farm was restored meant the renovation project would now be unlikely to go ahead.
It was a view shared by Tay Bridgehead Liberal Democrat councillor Jonny Tepp, who said he had raised it during discussions at December's north east Fife planning committee.
"I asked if we could include a condition in the current application that Persimmon Homes made progress with that as we had been promised in the original application," he said.
"That would have put pressure on them to get on with the project but unfortunately we were told we could not link the two applications in that way.
" It is my understanding that we are still promised progress this year but we shall have to wait and see."
A spokesperson for Persimmon Homes said work on the farmhouse was ongoing.
"Persimmon Homes has undertaken extensive structural investigations to evaluate the integrity of the property and we are now able to prepare pre-construction design work.
"A contractor has already been appointed to complete the programmed works."
The £19 million plan approved in December is the second phase of the Persimmon Homes development in Wormit.
It will include 50 affordable homes and the developer is legally bound to pay £600,000 towards the cost of a two-classroom extension at Wormit Primary School and to help increase capacity at the new Madras College in St Andrews.