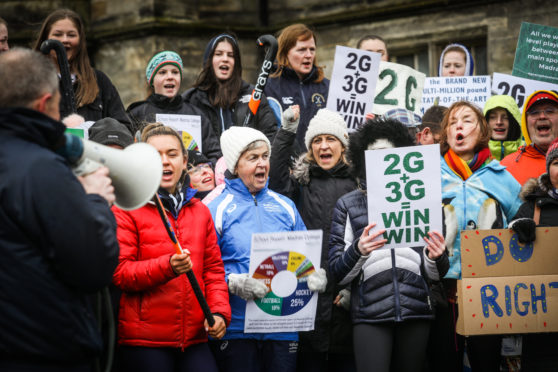 Almost 1,500 people have signed a petition in protest at controversial plans for sports pitch provision at Madras College in St Andrews.
Launched by North East Fife Liberal Democrat MSP Willie Rennie, it will be handed to Fife Council on Friday in a bid to persuade officers to reverse the decision to ditch plans for a multisport 2G pitch at the £50 million community school.
Pupils, parents and hockey players braved snow and gale force winds on Saturday to stage a demonstration against the proposal, which favours two synthetic 3G pitches.
Local hockey players claim the longer artificial surface is unsuitable for the game beyond S3 level.
While St Andrews has several hockey teams. as well as school players, there is only one sand-dressed 2G pitch at St Andrews University Sports Centre.
Campaigners have the backing of club players, including former Scotland and GB team member Alison Glasse-Davies, from St Andrews, Scottish Women in Sport and Scottish Hockey.
They have also been supported by Mr Rennie, who has called for an external review of the decision, and by Conservative Mid Scotland and Fife MSP Liz Smith.
A spokesperson for Scottish Hockey said: "We have been notified of the decision to install two 3G synthetic pitches, and not to include a multisport 2G surface, at the new Madras College campus.
"The two 3G pitche will cater for competitive football and rugby only, along with a further two grass pitches on the site at the new school campus.
"This decision significantly impacts the potential for clubs to grow hockey locally meaning opportunities are limited for the community of north east Fife to access a gender-balanced sport for life."
Fife Council said the proposal was for one specialist rugby pitch and one all-weather pitch similar to that installed in other secondary schools.
Head of education Shelagh McLean said: "The school and community use teams strongly feel that this combination will address most of their needs and will ensure maximum use of the pitches.
"In addition, the school will have access to a grass pitch on the adjacent university playing fields."
She added: "With regards to hockey, the planned 3G pitch is suitable for recreational training and school use up to S3 level as per the Sportscotland data sheet."
Ms McLean said the artificial pitches being installed were multi-functional to give the broadest access to a range of sports.