'I'm going for gold': Inspirational Fife veteran who suffered stroke to represent Team GB at Invictus Games
A Royal Navy engineer from Fife is working up a sweat as he steps up training ahead of representing Team GB in the forthcoming Invictus Games.
Stuart Padley from Glenrothes, is one of just two Scots to be making their way to The Hague in May to represent the UK at the sporting event for injured and recovering military personnel from across the globe.
Aged just 32, Stuart is recovering from a stroke he suffered in January 2018 which left him with mobility problems and language impairment.
The  aircraft handler, who served with the Royal Navy for eight years, has always been passionate about sport and was an avid lover of golf and football.
Since his illness and competing at the Invictus trials in July, Stuart has formed new interests in indoor rowing and archery and will now compete in both sports in a tournament which brings together more than 500 competitors from 20 countries.
Stewart, who successfully saw off 350 other hopefuls to make the 65-man UK squad, took time out from his training at the Michael Woods Centre in his home town to talk about how much his rehabilitation had been helped by the Games selection.
"Taking part in the Invictus Games will enable me to move forward with my recovery and be part of a team with similar challenges," he said.
"As well as getting me fitter and more mobile I have found that focusing on sports has also helped immensely with my mental well-being.
"It has made me more determined than ever to carry on with the Invictus journey, to be part of the fantastic camaraderie and to do the best I possibly can.
"I know there are some better guys out there than me but I'm determined to do well."
Stewart's future mother-in-law Margaret Allen, who has watched his rehabilitation, said he was an inspiration for others living with disabilities or life altering circumstances.
She said: "It's amazing to see how much he has achieved, not just physically but also mentally.
"He's rediscovered his confidence and his determination and I hope his recovery will help others to realise that they can also do it."
Stewart has had support from charities such as Help For Heroes, which provided a specially adapted rowing machine for training. He has also been spurred on by his personal trainer, Jamie McDonough who has worked with him since September.
"We've worked on building upper and lower body strength and increasing stamina and because of Stewart's dedication we've seen a huge improvements," said Jamie.
"But also, along with his confidence I've seen a big improvement in his speech and communication and that has come from being physically active."
Asked how he'll thinks he'll do, Stewart says he only has one thing in mind.
"I'm going for gold, nothing else, just gold."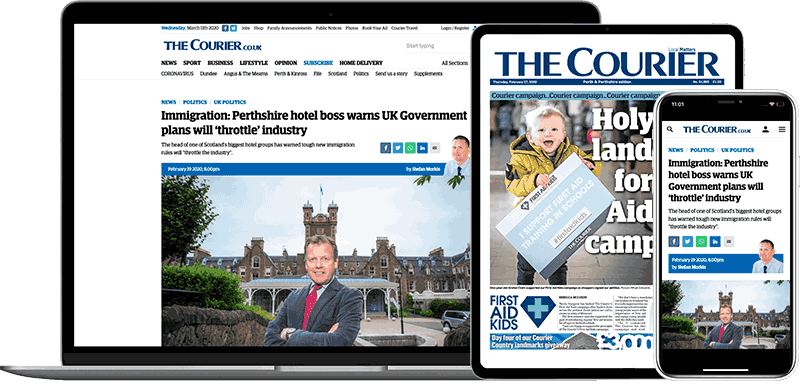 Help support quality local journalism … become a digital subscriber to The Courier
For as little as £5.99 a month you can access all of our content, including Premium articles.
Subscribe