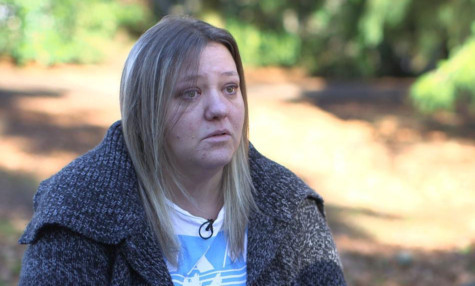 A bereaved mother caught up in the baby ashes scandal has said Fife Council's failure to establish a memorial has made her "fall apart".
Carol Howden lost her four-month-old son John to cot death in 1988 and was told by a funeral director that there would be no ashes to hand back to the family after he was cremated.
But after the baby ashes scandal, which mainly centred around the Mortonhall crematorium in Edinburgh, hit the headlines in 2012 she went on to discover her son's remains had in fact been dispersed in the grounds of Dunfermline's council-run crematorium.
Speaking to John Beattie on BBC Radio Scotland's Drivetime programme, she said: "It just never felt right over all the years and that gut feeling never went away.
"Then the Mortonhall baby ashes scandal hit the news and the woman on the telly was speaking the exact same words that I had been saying over 20 years, that that can't be right. Surely there should be something to come back to the family."
Ms Howden was eventually offered an apology by the council.
But she said Fife was the last local authority to create a memorial to the children who were lost. It is understood a memorial would cost in the region of £5,000.
A design for a monument depicting an angel was drawn up and a sculptor contacted to carry out the work.
It had been suggested the monument could be installed in Dunfermline County Park.
However, opinion among the 102 families affected by the ashes scandal is split and an agreement has not been reached about how their babies should be commemorated.
Ms Howden said: "I fall apart. That's all I can do.
"The only people that can make this right is Fife Council. It's not even as if she's the most expensive of the monuments. It's a very small amount.
"Honestly, the fight for this memorial has gone on and on and on.
"They're the last council to come forward with a memorial and we just want to know why. Why can't they just do it?"
Fife Council said it had contacted all affected parents to canvas opinion on what should be done.
Senior manager Alan Paul said: "We're very keen to have a memorial in Fife as soon as possible.
"We're fully committed to doing this and have written to all parents to seek their views. It's also possible that not all parents affected by our past practices have come forward and so we're putting in place arrangements to engage more widely.
"We're aware of one proposal that's been put forward and the council welcomes that. We're aware however, there are lots of potential solutions and in engaging with parents we hope to help them create a memorial that reflects the wishes of everyone.
"We're also aware not all parents will want to be involved in developing a memorial and have offered to work with those parents separately."