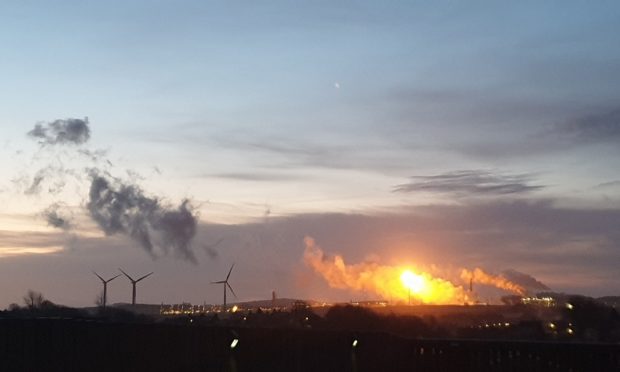 Scotland's environment watchdog has criticised further elevated flaring at Mossmorran, just days after the plant was restarted.
Sepa voiced its disappointment about the latest episode, which elicited fury and concern among nearby residents as it began on Tuesday afternoon.
It has demanded a detailed briefing on the incident which operator ExxonMobil Chemical said was due to a major compressor tripping.
Fife Ethylene Plant recommenced production on February 21 after a six-month shutdown due to the failure of two of its three boilers.
Chris Dailly, Sepa head of environmental performance, said: "Having been clear that flaring must become the exception rather than routine, we're disappointed that flaring by ExxonMobil Chemical Limited has occurred again so soon after the restart.
"Officers made immediate contact with the company and we understand that the flaring relates to a trip of a major compressor."
He said officers were monitoring noise and air quality and added: "Sepa is requiring a detailed briefing on the nature of the current incident and we expect the company to provide timely updates to the community.
"Whilst recognising that flaring is an important safety mechanism, this is a further reminder of why the short and medium term steps being taken by SEPA to mitigate flaring is so critical, including noise-reducing flare tips in 2020/21 and bringing forward plans for fully enclosed ground flares."
According to ExxonMobil Chemical the compressor was restarted on Tuesday evening but flaring continued until Wednesday afternoon.
We have now safely returned to normal operations and are no longer using our elevated flare. We thank communities for their patience while we completed this work. pic.twitter.com/HfrilFdLBd

— exxonmobil_fep (@exxonmobil_fep) March 4, 2020
The firm also insisted it operated in a highly regulated industry to the very highest safety and risk management standards and that the restart of its facility was executed safely at each and every stage.
On Wednesday afternoon plant manager Jacob McAlister said: "We have safely returned to normal operations and are no longer using our elevated flare stack.
"We thank communities for their patience during this work."
Sepa is already investigating previous flaring it described as unacceptable at the complex, where Shell runs the adjoining Fife NGL Plant.